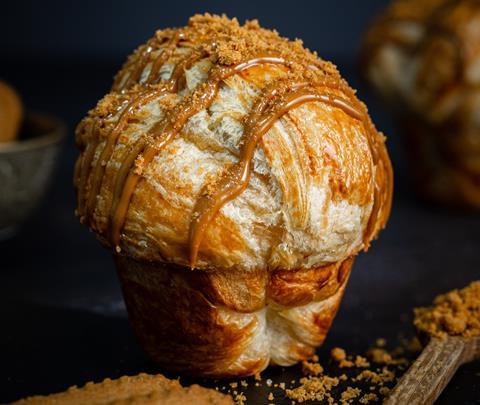 Lotus Bakeries has partnered with Muffin Break to launch a Lotus Biscoff Duffin.
The latest version of the doughnut and muffin hybrid combines the flavour and crunch of Lotus Biscoff with the 'light and airy' form of a duffin. The sweet treat is drizzled with Lotus Biscoff spread.
Muffin Break originally rolled out the hybrid baked item in 2016 and said it has since become a 'firm favourite'. The firm added that the duffin, alongside its other creations, are baked in-store every day.
"We love nothing more than working with new partners to bring our customers exciting new creations that provide a whole new Lotus Biscoff taste extravaganza," said Frances Booth, UK category marketing manager at Lotus Bakeries. "Our previous partnerships have included muffins and doughnuts but the Lotus Biscoff Duffin is a first, which is very exciting."
Muffin Break has also added a Lotus Biscoff milkshake, which combines vanilla ice cream, whipped cream, Lotus Biscoff topping sauce and crumb, to its menu as well.
"We are delighted to add the taste of Lotus Biscoff to our menu. We know that combining our signature Duffin with the on-trend and much-loved flavour of Lotus Biscoff is a winning combination and we can't wait to unleash it to our customers," added Michael Johnson, national operations manager at Muffin Break.
Hybrid bakes have been gathering pace on the bakery scene in recent years. The trend was kickstarted when Dominique Ansel created his renowned croissant/doughnut hybrid – the cronut. Since then, a whole host of mash-ups have been unveiled with recent NPD including M&S' biscakes and yumnuts.