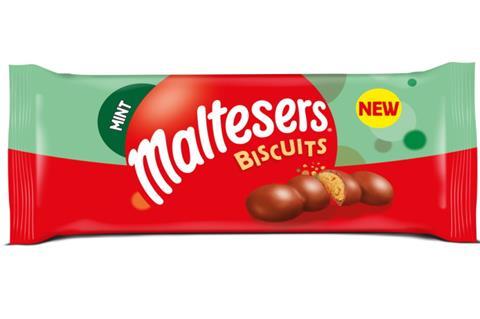 Mars Chocolate Drinks & Treats (MCD&T) has extended its Maltesers Biscuits range with a mint flavour.
Its Mint Maltesers Biscuits comprise three mint and malt bobbles, smothered in milk chocolate, creating a "snap and crunch". They are available for an rsp of £1.49.
At 110g, the pack of ten biscuits are part of a range extension following the success of the firm's original Maltesers Biscuits, launched earlier this year.
The UK sweet biscuit category is worth £2.7 billion, and is growing at a rate of 2.4% year on year, according to data firms Nielsen and Kantar.
"While the appeal of Maltesers is universal, mint chocolate particularly appeals to a consumers aged 35 and above. We believe that a combination of the innovation format, popularity of the brand and the mint flavour will drive new consumers to the category," said Michelle Frost, general manager at Mars Chocolate Drinks and Treats.
48% of Maltesers Biscuits' sales have been incremental to the special treats category demonstrating the strength of the range to attract new customers, Kantar added.
"In January, we said that the launch of Maltesers Biscuits would be the biggest biscuit launch of the year, and in value terms are delighted that this has proved to be the case. We believe that the launch of Mint Maltesers Biscuits will be equally successful in attracting new category consumers."
Mint Maltesers Biscuits are available in Asda and Sainsbury's this month and Tesco in October.