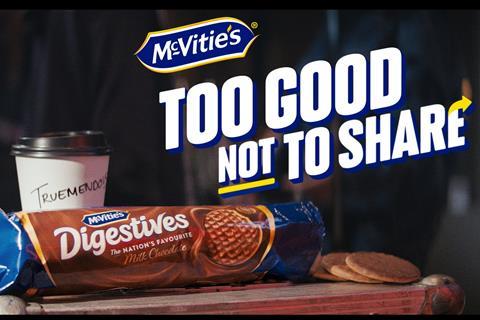 Pladis-owned McVitie's has rolled out a new campaign focused on the power of sharing and connection.
Called Too Good Not to Share, the £3m campaign will comprise two TV adverts, a social media giveaway and new look packaging.
It focuses on the power of sharing and connection, said Pladis, and will roll out across TV, video on demand and social media platforms Facebook, Instagram and TikTok in a bid to drive incremental sales amongst consumers aged 18-44.
The packaging update kicks off with McVitie's Chocolate Digestives, which has new typography, followed by McVitie's Digestives, McVitie's Ginger Nuts and McVitie's Fruit Shortcake. The refresh is set to roll out in store from January. It comes after the launch of the biscuit brand's festive milk chocolate Digestives and repackaged assortment of Victoria biscuits.
Meanwhile, the first TV advertisement aired during a recent episode of I'm A Celebrity, Get Me Out of Here. It begins with grime artist TrueMendous participating in a live lounge-style gig, before she is interrupted by a junior assistant who wants to share his McVitie's Chocolate Digestives. Taking a break, they inadvertently share the moment with thousands of people live over the airwaves.
The second, which is due to air early next year, features a gamer immersed in an online multiplayer battle, who shares a packet of McVitie's Chocolate Digestives with his younger sister. Both advertisements will run for one month.
"Shoppers tell us that our biscuits are so inexplicably tasty, they can't help but share them – even at the most inopportune moments. It's this insight that inspired our master brand campaign and is brought to life with our two new creatives," said Emma Stowers, brand director for McVitie's at Pladis UK & Ireland.
The biscuit brand is set to launch a social media giveaway named 'Digigestives' from 26 November. It will see 20,000 packs of McVitie's Chocolate Digestives up for grabs, encouraging users to nominate a friend or relative who will be gifted a pack for every follow and retweet of #TooGoodNottoShare posts.