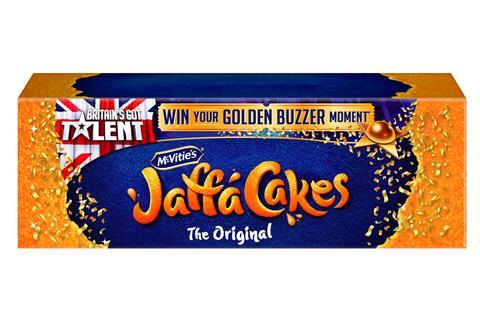 Pladis has unveiled a £10m campaign for McVitie's called Golden Moments which includes headline sponsorship of long-running ITV show Britain's Got Talent.
The sponsorship will drive visibility and build relevancy for McVitie's, according to Pladis, and the idents will showcase a variety of 'golden moments' which are inspired by memorable moments from the show. They will feature the likes of Chocolate Digestives and Jaffa Cakes, and focus on the novel ways that people can share McVitie's biscuits.
In addition, McVitie's will be airing a 20" TV spot that 'dramatises the feeling of being rewarded with the show's elusive Golden Buzzer', linking to an on-pack promotion.
The Golden Moments campaign will also include social media and digital activity as well as sampling support, with 34 products in the range given a Britain's Got Talent themed pack update.
"We're incredibly excited about McVitie's becoming headline sponsor of Britain's Got Talent in 2022, particularly as this is the biggest ever sponsorship in the brand's history," said Pladis UK & Ireland chief marketing officer Caroline Hipperson, who added that the brands were the "perfect fit".
"With more than nine million viewers, Britain's Got Talent offers us an incredible platform to drive brand visibility and make sure McVitie's gets added to even more shopping lists.
"What's more, throughout the campaign, we'll be creating memorable, Golden Moments of fun for consumers across all touchpoints, whether that's on their screens or in-store, all helping the McVitie's brand mean even more to consumers across the UK."
The campaign comes just a few weeks after Pladis extended the McVitie's portfolio with Blissfuls, described as indulgent treats featuring a biscuit base encasing a Belgian milk chocolate cream centre, flavoured with either hazelnut or caramel, and topped with a biscuit lid.