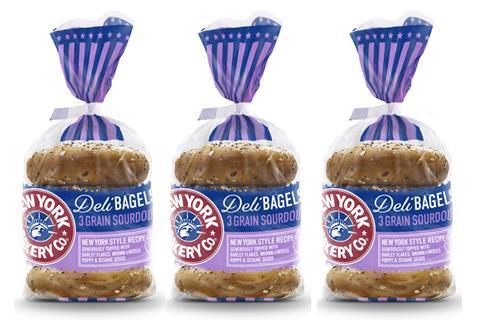 New York Bakery Co has extended its Deli Bagel range with the rollout of a 3 Grain Sourdough variety.
The 'deluxe' bagel is topped with poppy seeds, barley flakes and linseeds and is inspired by the Big Apple's 'iconic deli culture', according to the brand. The recipe for the product uses liquid sourdough and has been developed to provide the 'classic sourdough taste' along with the 'authentic texture of a bagel', the manufacturer said.
The NPD is an upgraded replacement for NYBC's sourdough bagels rolled out at the start of this year. The launch was aimed at tapping into increased demand for sourdough products as well as a changing appetite for sandwich alternatives.
The Deli Bagels range was originally launched by New York Bakery Co in November 2020, featuring the Four Cheese and Loaded Everything varieties, although the former is no longer in production.
Bagels were picked out by British Baker as one of the rising trends of the 2021 bakery scene, with more than 6.6m new bagel lunchtime occasions recorded during the latter half of 2020.
You can read about the trends for 2022 highlighted by British Baker here.