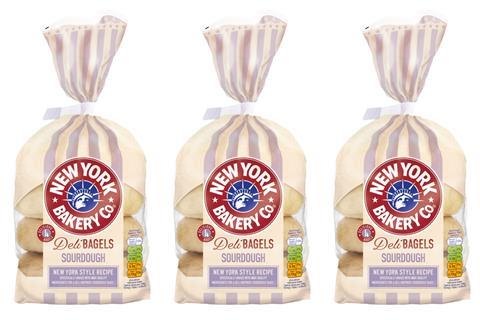 New York Bakery Co (NYBC) has expanded its range of Deli Bagels with a sourdough variant.
The sourdough bagel is made using liquid sourdough which is added to provide a 'classic sourdough taste' whilst keeping the chew expected from a New York bagel, the company said. Each batch of Sourdough Deli Bagels are fermented for three hours before forming, proving and fermenting at low temperatures for a minimum of an hour prior to steam baking.
Low in fat and suitable for vegetarians and vegans, the bagel is also free from artificial colours and flavours.
Available in a pack of four for an rsp of £1.80, the new variant is part of its 'fancy schmancy' Deli Bagels range which was launched last year with two flavours – Four Cheese and Loaded Everything.
It taps into increased demand for sourdough products as well as a changing appetite for sandwich alternatives. Bagels were highlighted by British Baker as one of the rising stars of the 2021 bakery scene, with more than 6.6m new bagel lunchtime occasions recorded during the latter half of 2020.
NYBC firm hopes the launch will drive incremental sales by attracting current shoppers to trade up, adding value to the category and meeting the needs of the growing lunchtime occasion.
The sourdough bagels are available now in Sainsbury's, alongside the Four Cheese flavour. Consumers can also find both the Four Cheese and Loaded Everything variants in Waitrose stores.