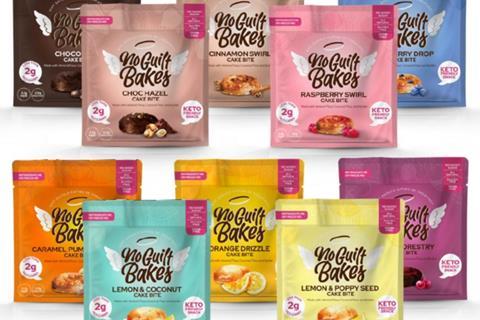 No Guilt Bakes is launching a range of keto-friendly on-the-go cakes.
The cake bites are made to a low-carb, low-sugar and maltitol-free recipe and packaged in recyclable share bags.
The range includes Choc Hazel, Raspberry Swirl, Lemon Poppy Seed, Cinnamon Swirl, Orange Drizzle and Blueberry Drop.
Among the key ingredients used are almond flour, organic almond milk, unsalted butter, coconut flour, hazelnut butter, chicory root fibre and sunflower lecithin.
No Guilt Bakes was formed in November 2020 by cousins and ketogenic enthusiasts Taeya and Maya Abdel-Majeed, having progressed from selling their baked goods in London street food markets.
The company moved into industrial kitchens in January and has also launched ketogenic bread as well as pancake and waffle mixes.
"Having sampled a number of underwhelming ketogenic cake offerings and noted the dearth of real choice that existed online, we knew we had to turn our hands to baking," said co-founder Taeya Abdel-Majeed.
"As our business grew, we recognised that our packaging and brand identity didn't reflect the quality of our cakes, a short-term oversight we've fully addressed," she added.
The No Guilt Bakes on-the-go range will be available from 21 February via Amazon, BoroughBox, Yumbles and a number of London-based independent cafes and delis, priced at £1.99 per 40g cake bite.