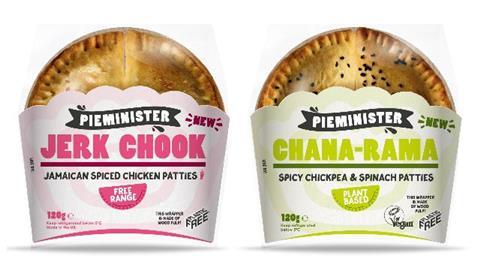 Pieminister is eyeing growth in the snacking market with the launch of a four-strong range of internationally-inspired patties.
Utilising the brand's existing circular pie lids, the patties are filled with a range of ingredients and can be eaten hot or cold. Two of the four variants are also vegan.
The line-up comprises:
Jerk Chook – a jerk chicken patty made with free range chicken & beans
Smokin' BBQ – a BBQ pulled pork patty made with free range British pork
Chana-Rama – a spicy vegan chickpea, spinach & potato patty
Holy Chipotle! – a vegan black bean & chipotle patty
The patties are initially launching in Ocado this month and will be in selected Sainsbury's stores nationwide at the start of July with an rsp of £2.50 for a two-pack.
"All too often we'll grab a readymade pastry snack wishing a more appetising alternative existed," said Tristan Hogg, Pieminister co-founder and MD. "Well now it does.
"Those who love our pies and love what we stand for: plant-based choice, high animal-welfare standards, sustainable packaging, amazing ingredients, fabulous flavours, but sometimes want a smaller, lighter, pie alternative to snack on, will love our new patties."
Pieminister has also looked to increase its environmental credentials with the launch – the packaging is plastic free and is made from fully recyclable card and a transparent outer made from wood pulp. A Plastic Free logo is on the front of the patty packs, meaning the packaging was approved by campaign group A Plastic Planet.
In addition to this, Pieminister has rolled out plastic-free packaging across its portfolio of classic and gluten-free pies in store. A transparent wood substrate has replaced the plastic window on packs and the gluten-free pastry has been rolled thicker to eliminate the need for a plastic tray.
More companies are looking to reduce their plastic use in the bakery, and wider food and drink, industry. This week Roberts Bakery announced the roll-out of paper packaging across its core 800g range which are emblazoned with the phrase 'rise up against plastic'.