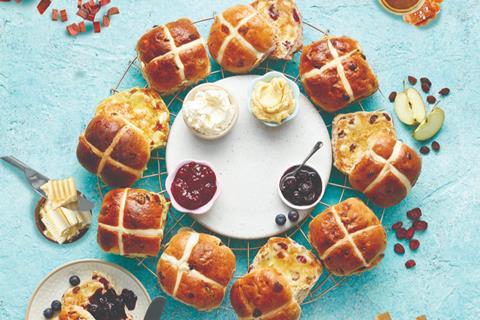 The UK's biggest retailers are mixing up their hot cross bun ranges for Easter 2021 with new products inspired by chocolate, coffee and pizza.
Asda, M&S, Waitrose and Sainsbury's are among those to unveil NPD with sweet and savoury options hitting shelves.
Here's our pick of the latest hot cross buns on the scene: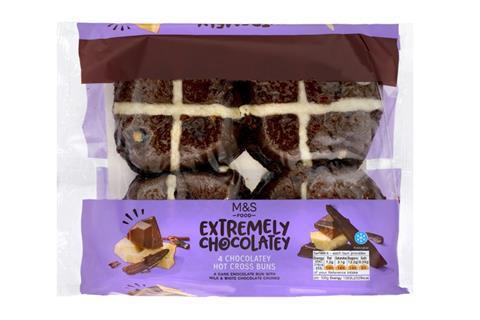 M&S
M&S is going for indulgence and inclusion with its two new hot cross buns.
The Extremely Chocolatey Hot Cross Buns (£1.65/pack of four) have a rich dark chocolate flavour and are packed with milk and white chocolate chunks.
Meanwhile, it's rolling out a vegan option in the form of Plant Kitchen Luxury Hot Cross Buns (£1.75/pack of four). They're filled with raisins and currants blended with avocados and coconut oil and flavoured with lemon zest and spices.
For Marmite lovers, consumers can try new Marmite & Cheese Hot Cross Buns. Made with mature cheddar, Red Leicester cheese and Marmite, these buns are 100% vegitarian and fruit-free.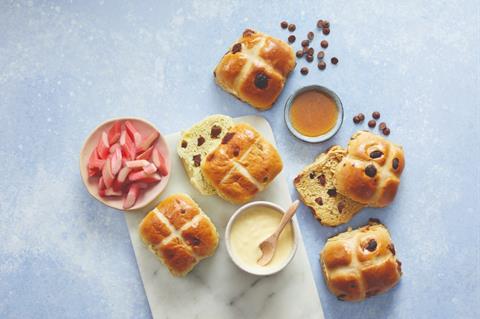 Aldi
To celebrate Easter, Aldi has unveiled a host of sweet and savoury hot cross buns.
The Specially Selected Salted Caramel & Belgian Chocolate bun (£1.09/pack of four) comprises chunks of Belgian dark chocolate, swirls of salted caramel and nuggets of toffee fudge pieces.
Its Specially Selected Rhubarb & Custard one (£1.09/pack of four) is infused with white chocolate chips and candied dried rhubarb.
For a treat with a kick, consumers can try the Specially Selected Chilli & Cheese bun (£1.09/pack of four).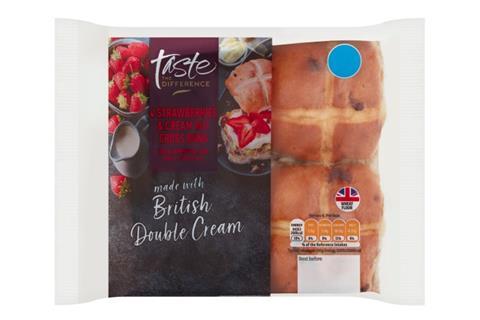 Sainsbury's
Sainsbury's has unveiled a new 'bright and summery' hot cross bun.
A change from the retailer's previous autumnal flavours, the Taste the Difference Strawberries & Cream Hot Cross Buns (£1.25/pack of four) are baked with a sourdough starter and contain strawberries, cranberries, white chocolate and double cream.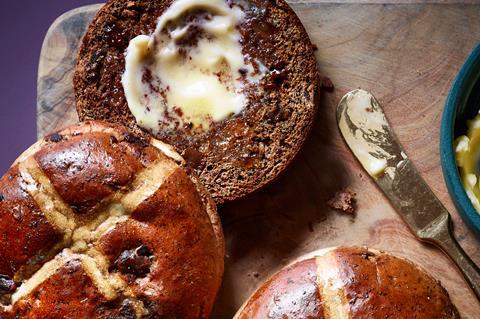 Waitrose
Waitrose has added three new hot cross buns to its range, including one for coffee lovers.
The Heston From Waitrose Mocha Coffee Hot Cross Buns (£1.70/pack of two) are made from a rich brioche dough with dates, chunks of chocolate, sultanas and coffee.
Another beverage-infused bun comes in the form of its Rum & Raisin Hot Cross Buns (£1.50/pack of four) with rum-soaked raisins.
The Wholemeal & Rye Hot Cross Buns (£1.50/pack of four), meanwhile, contain a mixture of fruits, seeds, oats and honey.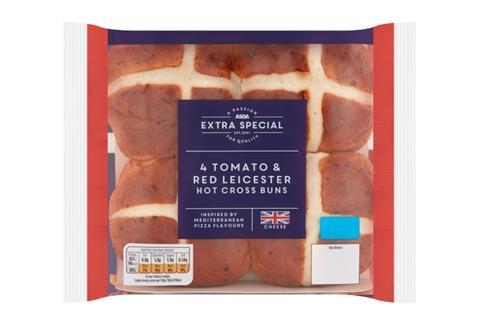 Asda
Asda has taken inspiration from an unusual place for its latest hot cross bun – pizza.
The Extra Special Tomato & Red Leicester Hot Cross Buns (£1/pack of four) amalgamate the popular cheese and tomato notes of pizza in a hot cross bun format.
The new variant will be joined by Extra Special St Clements Hot Cross Buns (£1/pack of four), which features Spanish lemon peel, orange zest and vine fruits, as well as Baker's Selection White Chocolate & Caramel Hot Cross Buns (£0.65/pack of four).
"We're always looking for fun and innovative products that bring people together and get people talking – and there's no better product than the humble hot cross bun to spark conversation," said Becky Price, hot cross bun product developer at Asda.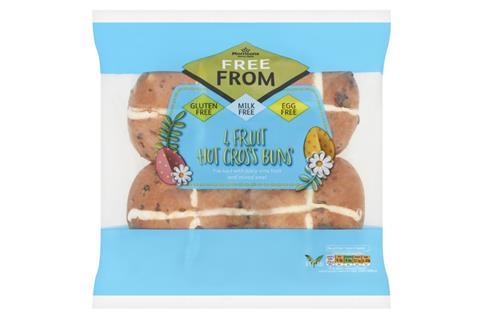 Morrisons
Morrisons is keeping things traditional with its hot cross buns by focusing on fruit variants.
The Best Extra Fruity Hot Cross Buns (£1.50/pack of four) are one of two new lines for Easter 2021 and comprise vine fruits, orange zest and spices. Consumers can also pick up a Verry Berry (£1) version in store.
Also joining the range are the vegan-friendly Free From Hot Cross Buns (£2/pack of four) which are filled with vine fruit, mixed peel and spices. They are also milk-, egg- and gluten-free.