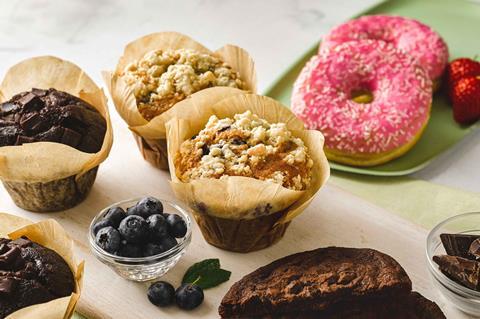 Negative perceptions around the taste of vegan bakery items are holding the market back, according to new research from Baker & Baker.
The manufacturer revealed the findings in a report called Bakery Bites which explores the vegan sweet bakery category and consumer attitudes to it.
Conducted by FMCG Gurus in partnership with Baker & Baker, the research questioned 1,000 UK consumers on their consumption of animal-based products. It revealed that 34% say they follow a diet around the avoidance or moderation of animal-based products – up from 28% two years earlier.
However, it also uncovered the top three barriers to the purchase of vegan sweet treats. When questioned why they would be less likely to purchase a sweet bakery item with a vegan claim, consumers placed taste as the main reason with 45% of the vote. This was followed by lack of understanding around vegan, named by 29% of respondents, and price, named by 27%.
Baker & Baker acknowledges that 'taste is king' when it comes to treats but believes that vegan-friendly items have come a long way as companies invest significant resources into NPD.
More needs to be done to tackle the lack of understanding of veganism though, with Baker & Baker noting that the industry must invest time and resources to this. For example, the research highlighted confusion between expectations of vegan and plant-based products. Nearly half (49%) of those polled believe there is no difference between the two while 15% are unsure.
When it comes to price, Baker & Baker points out the bigger picture which shows that of the consumers who are more likely to seek out vegan-friendly sweet bakery items, 44% would be willing to pay a premium providing they felt reassured over quality.
"We've launched the Bakery Bites report concept at a time when so much is happening within the bakery sector, with the aim of sharing insights across the industry," said Helen Sinclair, UK marketing manager at Baker & Baker. "The first Bakery Bites report focuses on the vegan sweet bakery market, and the findings highlight a significant opportunity for bakeries, foodservice operators and retailers who offer quality vegan products that do not compromise on taste."
The report is part of a series with more due to be published throughout 2022/23 looking at other issues impacting the sector.
Baker & Baker unveiled a vegan bakery range to the UK market earlier this year. It comprised pink ring doughnuts, dark chocolate cookie pucks, blueberry muffins and dark chocolate muffins.