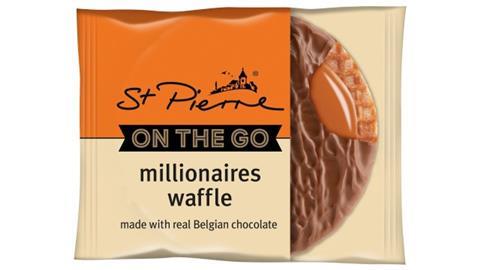 Baked goods supplier St Pierre Groupe has launched a caramel and chocolate waffle to tap demand for indulgent treats.
The Millionaires Waffle is made to a Dutch recipe, topped with caramel and coated in Belgian chocolate, with an rsp of £1.50.
Individually wrapped, the 45g product is designed to tap two growing consumer trends: food-to-go and indulgence foods.
It will extend the company's on-the-go range, which St Pierre Groupe said had seen 150% year-on-year sales growth.
"The Millionaires Waffle adds a new dimension to the already popular St Pierre on-the-go range, which we have seen grow significantly since its launch in 2018," said Jeremy Gilboy, founder at St Pierre Groupe.
The food-to-go sector is predicted to reach £23.4bn in 2024, a 26% increase from 2019, which is double the 13% growth of the wider UK food and retail grocery market over the same period, according to insight firm IGD.
St Pierre said sales of its caramel waffles increased 32% year-on-year over the summer months.
"As a trailblazing brand, our creative team has developed a product that not only tastes delicious but taps a number of consumer trends, while offering simple indulgence on-the-go," Gilboy added.
The Millionaires Waffle is available in selected WHSmith Travel Stores now and is due to launch in a leading UK supermarket later this year.
St Pierre Groupe won two awards at the Insider's North West International Trade Awards last year.