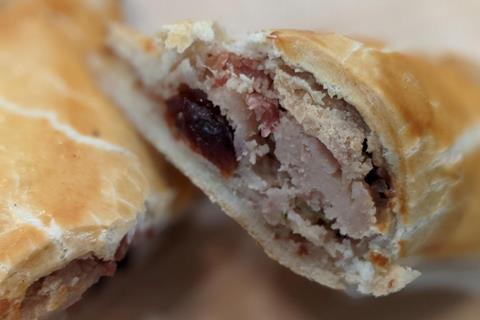 Stacey's Bakery has extended its festive range with a Christmas dinner-inspired sausage roll and puff pastry bake.
The sausage roll comprises turkey, bacon, stuffing and cranberries, and the puff pastry bake contains chicken, sausage, bacon, stuffing and gravy.
David Stacey, managing director and great grandson of the bakery's founder Guy Stacey, devised the recipe for the Festive Sausage Roll (£0.99). He also created a Cranberry & Ginger Seeded Loaf (£2.10) with cranberries, stem ginger and a caramelised crust.
"Although we love to make our traditional Christmas items each year, which are always popular, it's also a lot of fun coming up with something different for the festive season, and also a treat to taste-test them too," said David Stacey.
A host of festive treats will return at Stacey's this Christmas, including gingerbread biscuits in snowmen, star, Christmas tree, stocking and Rudolf shapes; Christmas cakes, which are also available in individual slices; chocolate logs and twigs; chocolate rum truffles reminiscent of Christmas puddings, and the Cranberry & Almond scone (£0.44).
"The festive sausage rolls are very tasty, so our tasting panel says, especially hot ones. Our new Christmassy loaf is delicious toasted or served alongside a cheeseboard this Christmas," added Stacey.
The bakery expects to sell 16,000 mince pies during the festive season, it revealed.
Stacey's Bakery has branches in Ilkeston's Bath Street and South Street, Heanor and Eastwood.