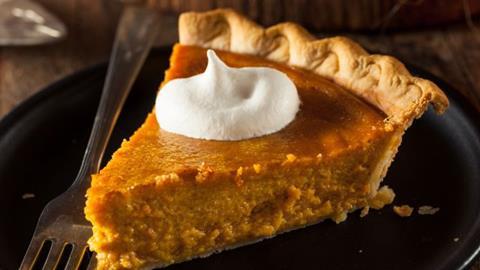 It's Thanksgiving – a US holiday dating back to 1621 when pilgrims and Native Americans gathered together to share an autumn harvest feast.
Things have changed a bit since then, but the holiday is still focused on feasting. There's turkey, potatoes, stuffing and, of course, pumpkin pie.
For our American friends pumpkin pie – a pastry base filled with a pumpkin-based spiced custard – is the quintessential way to polish off a Thanksgiving feast and will likely feature on millions of dinner tables across US. But it remains elusive in the UK.
One reason is that Thanksgiving isn't celebrated over here, but some in the baking industry believe, like other US foodstuffs, it could prove a hit with the right marketing behind it.
So, will anything tempt Brits to tuck into a pumpkin pie this season? British Baker finds out.
Vegetables do not belong in pudding
"The British have never really got on board with the Thanksgiving classic, pumpkin pie," says Fabien Levet, national account manager – foodservice at Pidy UK. "In previous years, using vegetables in baking was unheard of and Brits were firm believers that they did not belong in pudding (unless we are talking about carrot cake, which was the only exception when smothered in frosting)."
Slowly, but surely, the trend for vegetable-based desserts has been accepted. Beetroot brownies, sweet potato loaves and courgette cake are more common nowadays.
But confusion remains, notes Jacqui Passmore, marketing manager UK and Ireland at Dawn Foods.
"Many UK consumers may not be familiar with how pumpkin tastes," she says. "In the case of the pumpkin pie filling, there may be uncertainty about whether it is a savoury side dish or a sweet bake which could be chosen as a dessert."
Education can help, along with the phenomenal rise of pumpkin spice lattes which grace the menus at many coffee outlets across the UK. As can the increased interest in US foods.
%%Quote_42%%
"As interest in foods from around the world, as well as different traditions and cultures increases, pumpkin pie is one dessert that could be ready to make a big entrance," she adds.
An autumnal window
That entrance should take place in the window between Halloween and Christmas, believes Tarek Malouf, founder and MD of The Hummingbird Bakery.
"It's a great seasonal statement dessert and fills the gap in the run-up to Christmas for those seeking an autumnal treat that can be shared around," he believes.
Pumpkin pies have been on the menu at Hummingbird since it opened its first bakery in Notting Hill in 2004. It sells 9-inch versions, as well as individually-portioned mini pumpkin pies, at selected bakeries around Halloween and Thanksgiving, with the larger version available year-round via its website.
The bakery was at full capacity for the number of pumpkin pies it was able to produce in time for the holiday last year, adds Malouf, noting a slight increase in demand in recent years.
Not a soggy bottom in sight
Hummingbird's offering is a traditional one (below), based on an authentic American recipe. The perfect pumpkin pie, Malouf says, should have a "slight wobble and delicate hint of spice". It can be served hot or cold with whipped cream and a dusting of cinnamon.
"It's very easy to overbake it and make it too dry or to underbake it and end up with a soggy pastry base and an overly wet middle," he adds. "The mixture needs to be creamy and the base needs to be golden and crisp."
Shortcrust pastry is a traditional choice for pumpkin pie. "As the filling is quite wet, it's important to have a sturdy pastry as the base. It's also important to blind-bake your pastry before adding the filling to avoid a soggy bottom and ensure the crust is crisp," he advises.
The use of tinned pumpkin can also help to cut back on preparation time and will keep the filling moist without being wet.
Tempt Brits in with chocolate
While some stick to tradition, others are looking to tempt Brits with something more familiar.
"Last year, instead of a traditional pumpkin pie we created a pumpkin cheesecake, which was very popular," says Abigail Syson, head of production at London-based bakery Konditor & Cook. "It's all about pushing the boundaries and encouraging people to try something new."
Most of the people who buy the pies from Konditor & Cook are American, notes Syson, who believes it's "still a bit of a tough egg to crack" when it comes to encouraging Brits to try it.
Chocolate could be the solution. "For the many chocoholics amongst us, why not add a chocolatey twist, which might even tempt those who aren't convinced. Blending chocolate and pumpkin together to form a marbled effect will give a new flavour dimension," Levet says. "Or why not take inspiration from a more universally adored treat, the Lemon Meringue Pie and pipe your pumpkin pie high with a fluffy, white topping to add a modern twist that will be sure to spice up any offering."