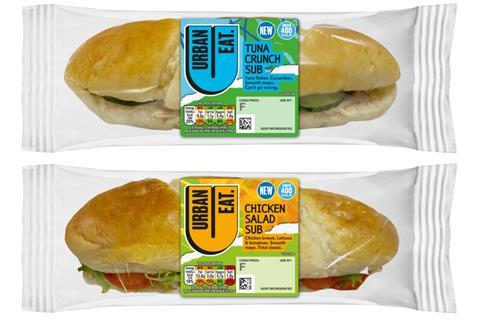 Food-to-go brand Urban Eat has unveiled a range of sandwiches which it said are the first in a pipeline of 'new and improved' lunchtime eats.
The sub rolls come with three different fillings and are available across travel, convenience, education, contract caterer, and foodservice channels. The range comprises:
Chicken Salad – new to the range, this is made with chicken breast, lettuce, tomato, and cucumber with lemon mayonnaise
Tuna Crunch – another new addition which sees the classic tuna and mayonnaise filling combined with cucumber, sweetcorn, onion, and red pepper
Ham & Cheese – one of the brand's bestselling sandwiches, has undergone a recipe overhaul and is now included as part of the range.
Sub rolls have previously been included in Urban Eat's line-up, but the latest sandwiches feature a 'new, improved' roll which is larger and softer than before and is also glaze-topped.
The brand also counts wraps including gluten-free, vegetarian, and vegan options among its portfolio, while festive variants are often rolled out.
"The food-to-go sector is showing great signs of recovery with more of us out and about, so we're delighted to bring our higher-quality sub range to market ahead of a great summer," Abigail Ehoff, brand manager at Urban Eat, explained.
"This launch is also just the beginning. We've been busy working behind the scenes to take our full portfolio from good to great, and we can't wait to reveal all soon."
Urban Eat was acquired by Samworth Brothers in August 2020 as part of its Food For Now division. It followed former owner Adelie Foods entering administration in May of the same year due to the "significant adverse effect" the coronavirus pandemic had on its business, resulting in nearly 2,200 employees being made redundant.
Samworth Brothers produces a range of chilled and ambient foods from sites in Leicestershire and Cornwall, among others. Alongside own-label products, it all produces baked goods under brands Ginsters, Soreen, West Cornwall Pasty Co, and Dickinson & Morris.