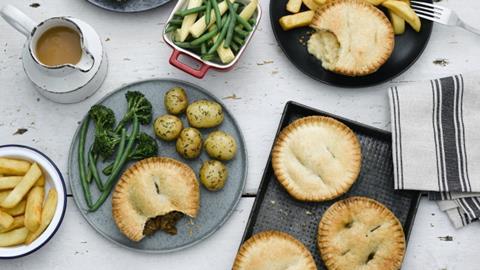 Holland's Pies has started the hunt for a new taster to join its Pie Panel, focusing on vegan and vegetarian pastry-based treats.
The chosen pie taster will review Holland's new vegan or vegetarian products every six months – before anyone else – and will also receive a year's supply of treats.
To promote the campaign, Holland's Pies has teamed up with Phoenix Nights star and BBC Radio Manchester present Justin Moorhouse.
Entrants don't require any previous experience, said Holland's, but must be keen, enthusiastic pastry lovers with an interest in vegan and vegetarian food. Once the applicant is chosen, they'll be required to attend Pie Panel meetings every six months – either remotely or at the factory.
"With the rising trend of meat-free diets, we wanted to ensure we had the expert opinion of a meat-free consumer on our panel to help us continue to develop our range and grow our loyal fan base," said Leanne Holcroft, brand manager at Holland's Pies.
"We're looking for someone who is passionate about pastry and with a keen interest in vegan and vegetarian food, to taste and feedback on our meat free ranges – they'll be rewarded with a year's supply of pastry goodness after each meeting. What better way to be paid?"
To enter, applicants must email piepanel@hollandspies.co.uk telling Holland's Pies, in no more than 250 words, why they're deserving of a coveted place on the Pie Panel. Applications close on 22 May.
The brand has recently expanded its meat-free range with its first-ever vegan product – a vegan sausage roll. Other recent additions to the range include a Deep Fill Mature Cheese & Onion Pie which was co-branded with Wyke Farms, and a Vegetarian Mince & Gravy Pie.