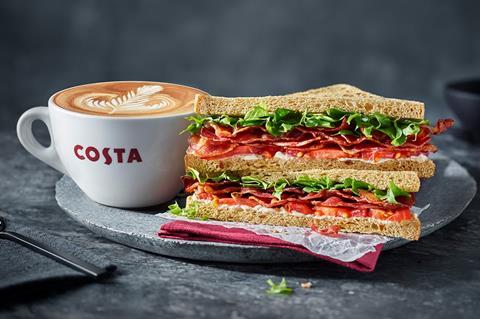 Yumnuts, sausage rolls and sandwiches from Marks & Spencer are to be sold in Costa Coffee stores from this week as a supply partnership between the two businesses gets underway.
The deal, which was first announced in November, will mean consumers can purchase 33 M&S Food products in over 2,500 Costa stores across the UK as of Thursday 3 March.
It builds on Costa's own food offering and provides customers with an even greater range of 'great value food' across breakfast, lunch and break-time occasions, the firms said.
Highlights from the Costa Coffee Now Serving M&S Food menu include:
Plain Jane Yumnut
Billionaire's Yumnut
BLT Sandwich
New York Pastrami Sandwich
Made Without Wheat Chicken & Bacon Sandwich
Our Best Ever Sausage Roll
Plant Kitchen Hoisin No Duck Wrap
Adrian Cook, UK & Ireland chief operating officer of Costa Coffee, described the new menu as an "exciting first step" in the collaboration between the two firms.
"As we look to continue crafting new coffee-experiences, we are building a new food offering that will provide an even greater range of quality and great value food for all customers – making Costa Coffee the first choice for customers on the go," Cook added.
Stuart Machin, chief operating officer and M&S Food managing director, added: "Bringing together delicious, great quality M&S Food and the nation's largest chain of coffee shops is great for customers as it extends our reach and supports our strategy of making M&S more relevant, more often for families."
The partnership is part of Costa's ambition to become the 'first choice for customers buying food and coffee on the go'. Significant investments are being made in food in addition to the M&S Food range, Costa added, including product innovation in the coffee shop's own range and 'refreshed store environments'.
Seasonal treats
In addition to the items from M&S, Costa is also adding a range of own brand NPD to its menu. This includes the limited-edition British Bacon Mac & Cheese Bloomer Toastie.
Sweet innovation comes in the form of a Classic Hot Cross Bun, a Hot Cross Spiced Loaf Cake, Hot Cross Treacle Tart and Chocolate Hot Cross Bun. A Chocolate & Orange Mini Egg Cake is also being introduced while the Chocolate Cornflake Nest and Double Chocolate Torte are returning to stores.