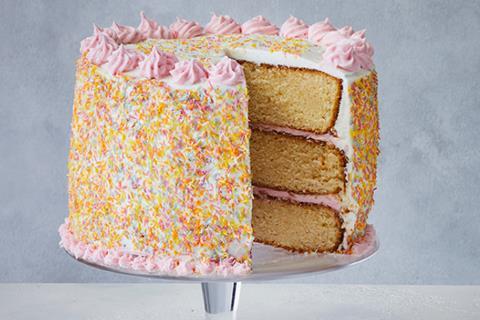 Pub and brewing giant Greene King has expanded its cake home delivery service in partnership with Just Eat.
The Big Cake Co was launched late last year as a limited trial and has proceeded to expand its presence as lockdown restrictions lifted. It now operates from 43 sites across the UK.
Customers can choose large slices from six core cakes which Greene King said are mixed, baked and decorated by hand every day. The core variants, which cost £4.99 a slice, comprise:
The Martian – a triple layer chocolate cake sandwiched between toffee fudge icing with chocolate frosting
Pinkcredible Sprinkle Cake, which comprises three layers of vanilla sponge, strawberry icing, and rainbow sprinkles
Keep Calm and Carrot On carrot cake with cream cheese frosting
Cake-Cheese-Teaser-Malt comprising a crushed biscuit base with a creamy filling topped with chocolate frosting swirls and chocolately malt pieces
The Cake Namer's Day Off Strawberry Cheesecake featuring the same biscuit base as above but with a creamy and strawberry filling topped with vanilla frosting and glazed strawberries
The Big Éclair comprising choux pastry filled with custard, sweet cherry compote and a creamy filling topped with double fudge icing.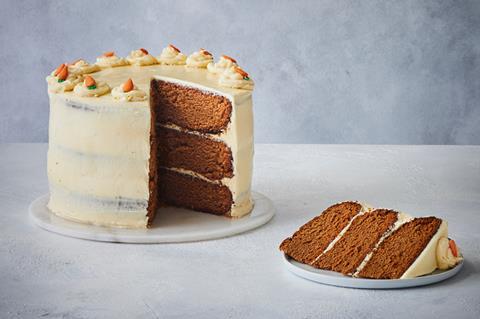 Seasonal specials are also available on a limited basis with Chocolate Orange Cake, Mint Brownie Cake and Black Forest Gateaux added in time for Christmas.
The expansion comes as research commissioned by The Big Cake Co found that more than half (55%) of adults eat cake at least once a week, with a fifth consuming it once a day. The poll of 2,000 adults also revealed that eight out of 10 were happy to pay up to a fiver for a slice, while 81% said the portions generally served when purchasing cake are not big enough.
The research also named lemon drizzle as Britain's most popular cake, followed by chocolate fudge in second position and Victoria sponge in third.
"It appears that we're all mad about cake, and it's easy to see why," said Ian Straughan, spokesperson for The Big Cake Co. "It comes out on our most important days – weddings, birthdays and christenings – and, according to our survey, it's even more popular as a deliciously indulgent treat to eat at home."