Staying on top of trends is vital in the fast-paced cake market. In the second and final part of this series, we explore some of the top trends playing out on the cake market. Dive in here.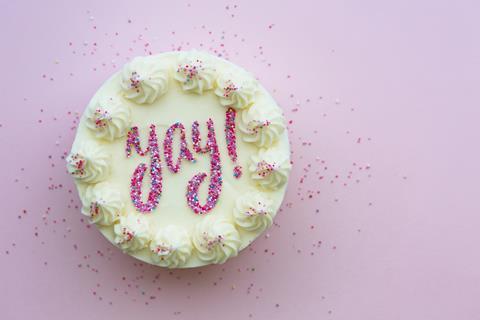 Customisation station
For some, off the rack won't cut it when it comes to fashion, and the same can be said for cakes as consumers want a sweet treat tailored to their needs, tastes, and occasion.
"Customisation is a strong global trend, from creating personalised cakes and bakes for celebrations, to getting creative with colours and flavours," explains Kayleigh McDonough, communications manager for Renshaw and Rainbow Dust.
This could include hand painted finishes and logos, according to Simone Tasker, operations manager at The Hummingbird Bakery, who notes the trend is appearing in the fashion and interiors world. The resultant cakes needn't be elaborate though, as Tasker adds: "We have seen a solid and growing demand for classic cakes with simple handwritten messages."
Mark Sinjakli, managing director at online celebration cake platform My Baker, which notes increasing requests for bespoke novelty cakes or 'standard-plus' ones, believes it's about the experience. "It's a service as much as a product," he says.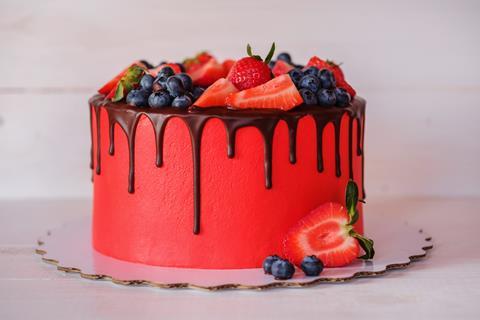 Celebrate good times
It's no secret that the celebration cake market took a hit during the pandemic, particularly with social gatherings limited to small numbers. But big and beautiful cakes are making a comeback, particularly as customers trade up for occasions other than birthdays and weddings.
"Whereas the previous year was big for smaller sized cakes and postable goodies, such as letterbox brownies, this year we should see an increase in big and opulent cakes as people get back together," believes Fulop Gabor, managing director of London-based cake specialist Jack & Beyond.
We should see an increase in big and opulent cakes as people get back together
It's also been noticed by The Hummingbird Bakery which has reported a "big uptake" in orders of layered celebration cakes since lockdown restrictions have eased, as operations manager Simone Tasker notes that conversations with customers suggest they are seeing "increased value in marking special moments in life, and celebrating those moments with cake".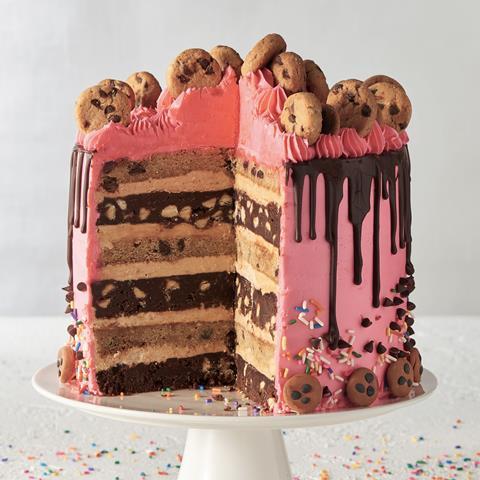 As such, retail sales of cakes have received a much-needed sales boost in recent weeks. "Celebration cakes sales are up 17% and other whole cakes are up 19% – this alone has generated an extra £15m in value sales in the last 12 weeks [Nielsen]," adds Chris McLaughlin, commercial director for St Pierre Groupe.
That said, cupcakes aren't going anywhere as they tap into the "small indulgences trend", according to Karen Dear, director of operations at the Craft Bakers Association.
This is echoed by Karin Janssen, bakery expert and business development manager at ingredients supplier Henley Bridge, who says cupcakes are seen as an "indulgent treat which is not too expensive", plus the calorific content of them "is not off the scale".
What's more, cupcakes have been joined by a host of other small, but indulgent, options. "As cake decorators adapted their businesses to offer cake boxes and afternoon teas, they offered a wider selection of smaller cakes from cupcakes to mini battenbergs to mille feuille, giving consumers more choice," notes Renshaw's McDonough. "We're starting to see the introduction of this selection format in retail, which will offer flexibility and variety with flavours and products, like caramel fillings and flavoured frostings.
Another format gaining attention thanks to a certain caterpillar is the cake jar; M&S rolled out a trio of sweet treats in the format, including a Colin the Caterpillar variant and raspberry ripple one. The Colin treats feature layers of chocolate sponge, Belgian chocolate ganache and sauce as well as white chocolate chips.
A slice of health
Consumers want to have their cake and eat it which is why health is increasingly a consideration when choosing a sweet treat.
Chief among health priorities, according to a recent survey by the Craft Bakers Association, are low sugar options as 53% of respondents believe it would be a key focus for health-conscious bakery consumers, followed by allergen labelling and high fibre options.
Liz Gabriel, bakery specialist at I.T.S, says health is playing out "slowly" on the cake market due to its heavy reliance on sugar and fat, but admits "at some point, the baking industry will have to adapt".
Quality and taste remain key and research shows consumers are wary of 'diet' versions
There are developments, as Alison Ordonez, head of NPD at BBF reveals the cake manufacturer is working on a vegetable-based alternative to sugar and is also looking to increase the fibre content of its cakes. Ingredients manufacturers, meanwhile, have been rolling out reduced sugar cake mixes for a few years now.
"The health aspect is heavily influencing the cake scene and that's why vegan and reduced sugar options are doing so well in 2021 and will continue to do so for the foreseeable future," says Cristiana Ballarini, marketing director pastry mixes for CSM Ingredients – one of the suppliers to roll out a reduced sugar cake mix earlier this year under its Craigmillar range.
However, most consumers won't sacrifice enjoyment for the sake of health. "Quality and taste remain key and research shows consumers are wary of 'diet' versions, with 48% of UK consumers agreeing they'd rather eat less indulgent food products than opting for a 'light' or 'diet' version of a product," concludes Kirsty Matthews, insights and marketing manager at ingredients supplier Macphie.
Top cake trends for 2022 revealed
1

2

Currently reading

Top cake trends for 2022 revealed: part 2