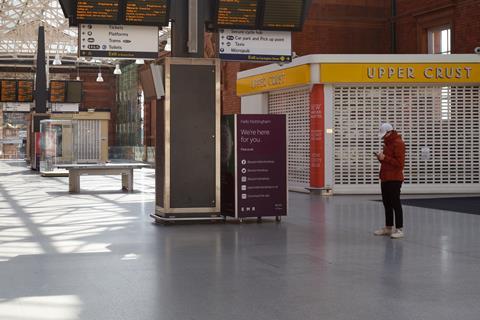 Up to 5,000 roles may be made redundant at travel sites operator SSP due to the devastating impact of the coronavirus outbreak.
With very few people passing through airports and railway stations, almost all the company's sites, which include Uppercrust and Starbucks units, have been shut down. As a result, the business has seen sales crash 95% year on year in recent months.
SSP said even plans to introduce 'air bridges' would bring only a slight increase to short-haul travel, and the number of long-haul flights was expected to remain very low. With social distancing measures in place, recovery in rail passenger numbers, currently down about 85%, was expected to be slow, it added.
As a consequence, the business predicted it would only have reopened 20% of its UK sites by the autumn and revealed it was starting a major restructure.
SSP today (1 July) warned that, if the pace of the recovery continued at the current level, this could lead to up to around 5,000 roles becoming redundant from head office and UK operations.
Only the UK part of the global business has been affected by the plans, because of expected faster recovery, the longer durations of furlough support or contractual lay-off arrangements in other parts of the world.
"Covid-19 continues to have an unprecedented impact on the travel industry and on SSP's businesses in all geographies," said SSP group CEO Simon Smith. "We are beginning to see early signs of recovery in some parts of the world and are starting to open units as passenger demand picks up.
"However, in the UK, the pace of the recovery continues to be slow. In response to this, we are now taking further action to protect the business and create the right base from which to rebuild our operations."
Smith added that the business would ensure it retained the flexibility to ramp up operations and quickly reopen sites if sales improved over the summer.
"The medium-term prospects for the group remain positive," he stated. "The objective of the action we are proposing today is to ensure that we manage through this pandemic, rebuild our business as demand recovers and, in time, deliver long-term sustainable growth for the benefit of all our stakeholders."
While group sales were down 95% in April and May, they have recovered slightly and were down 90% in June, thanks to increases in Continental Europe and North America.