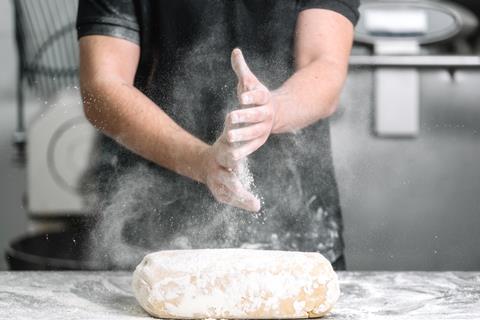 The Federation of Bakers (FOB) has published revised guidance on dust control in bakeries.
Called Dust Control and Health Surveillance in Bakeries, it addresses what the Federation describes as one of the most significant occupational health risks in the bakery industry – respiratory exposure to flour and other ingredient dusts.
The review was carried out by the FOB Health & Safety Committee, which includes representatives from all sectors of the bakery industry including the Craft Bakers and Scottish Bakers.
The 'blue book' first appeared in the 1980s and was last revised in 2008. It has now been updated again and reissued as a PDF download available from the Federation's website.
It provides information and advice for bakers and others working in the food manufacturing industry which, if followed, will help them reduce risk arising from employee exposure to flour and other ingredient dusts, said FOB.
Following the guidance will also help employers in the industry meet their duty of care for employees and contribute to ensuring health and safety compliance, it added. In particular, the guidance provides advice on how to assess dust levels in the workplace and outlines a range of practical measures which can be taken to reduce dust exposures as low as reasonably practicable.
"I am sure that as before the revised guidance will be read and used throughout the baking and wider food industry," said FOB chief executive Gordon Polson.
"I would like to thank all members of the FHSC who have given many hours of their time to the review of this essential industry guidance."
The Federation represents the UK's largest baking companies who manufacture sliced and wrapped bread, bakery snacks and other bread products. Its members include: Fine Lady Bakeries, Jackson's Bakery, Roberts Bakery and Warburtons.
To find out more about the dangers dust can present in a bakery, read our feature: 'Dust: a danger that can't be ignored'.