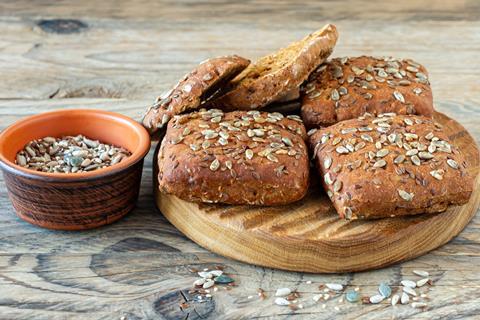 Increasing the fibre content of everyday foods including baked goods could lower the risk of heart disease and diabetes for many UK adults, a study by Tate & Lyle has found.
UK adults consume 19g of fibre per day on average, which is under the recommended amount of 30g. Currently, only 9% are meeting the daily target.
However, in a peer reviewed health and nutrition data modelling study published in the British Journal of Nutrition, scientists from Tate & Lyle, working with specialist data analytics company Crème Global, found that reformulating everyday foods with added fibre could reduce the risk of cardiovascular disease and type 2 diabetes for 72% of the adult population.
Other potential benefits include up to 6% of the UK population losing weight through higher fibre consumption, and more than double the number of children in the UK meeting their fibre intake recommendations.
"Most people understand that eating fibre helps keep bowel function regular, but fewer understand that getting the right amount of fibre in your diet is highly beneficial for wider health and wellbeing, including cardiovascular, immunity, skin, brain and gut health," said Dr Kavita Karnik, global head, nutrition & regulatory affairs at Tate & Lyle and a co-author of the health and nutrition data modelling.
However, Karnik conceded that for most people. it is difficult to get enough fibre into their diet without exceeding their recommended calorie intake. "This is where fibre fortification could play a highly beneficial role to public health," she added. It would allow consumers to continue eating the products they prefer while potentially, lowering rates of cardiovascular disease, Type 2 diabetes and help maintain a healthy weight across the population."
Tate & Lyle recently signed up to the UK's Action on Fibre initiative by the Food and Drink Federation (FDF), which aims to help consumers bridge the gap between fibre intake and the dietary recommendation.
"FDF's Action on Fibre campaign aims to highlight the vital role reformulation and new product development plays for food and beverage companies, giving consumers a wider range of products to assist them in hitting the target more easily," said Amy Glass, UK diet and health policy manager at FDF. "We welcome this research in demonstrating the power these initiatives can have on improving the national diet and raising awareness on the benefits of fibre as part of everyday, healthy lifestyles."
Adding fibre is one of the ways manufacturers are striving to put a health halo around the bread category.
"We have seen how reformulation has helped to reduce salt consumption and it's important that the food industry continues to innovate to produce healthier products, in some cases reducing nutrients such as salt or sugar or by adding beneficial components such as fibre," said Sara Stanner, science director at the British Nutrition Foundation.