No one can argue that Britain doesn't love bread, and the bond has strengthened during the pandemic, with Mintel reporting a 3.5% rise in sales for 2020.
However, despite the love, it would be fair to say that the category has a complicated image. While bread is rightly considered a staple and a reliable source of sustenance, the overall view isn't always so conclusive about its health credentials.
The long-established obsession with carbohydrates in the diet industry means bread is often the first casualty in a slimmer's new regime. Meanwhile, movements such as Action on Salt and government-sanctioned sodium-reduction targets have placed public focus on the less salubrious elements of bread making.
Many in the industry are prepared to make the case for salt – including the Federation of Bakers, whose chief executive Gordon Polson says it is an "essential ingredient in bread and not just about taste and palatability". But regardless of the rights and wrongs of that particular issue, it's clear that perceived health benefits are playing an increasing role in consumers' choices within the bread category. In fact, according to Mintel, health is prioritised by as many as 44% of UK buyers when choosing between different types of bread.
However, while certain campaigns and initiatives amplify the negatives and place the onus on the product containing 'less of' a certain ingredient, the healthy bread market appears to be driven by an approach that's arguably more positive, promoting products that contain the more virtuous constituents in greater number. In fact, Mintel data shows that 12% of UK launches in the bread market had a high/added fibre claim in 2019, with this rising to 13% in the first nine months of 2020.
"The market for healthy and nutritional bakery options has been steadily growing for years as many consumers look for high fibre enrichment and naturality in their bakery products," says Erwan Inizan, northern Europe sales director for Bridor.
Added edge
According to Inizan, popular, revenue-producing products will be those that include ingredients that consumers associate with healthy living. "Many consumers are aware of the health benefits that fibre brings, and that bread provides a staple source. However, the addition of natural functional ingredients will give products an added edge," he explains.
This was the thinking behind Bridor's recent launch of its multi-fibre l'Amibiote bread, an enriched fibre bread range with a sourdough base and seven vegetal fibres, as well as the Legumi variety, made from a mix of lentils, beans and dried peas. The latter product, says Inizan, was conceived to "satisfy the rising number of healthy eating, flexitarian and eco-conscious consumers".
As people begin to return to work and school, healthy eating has become more important
Messages around health are particularly effective among the increasing number of consumers choosing a plant-based diet, according to Matthew Cullum, director of marketing for Allied Bakeries.
Cullum also believes the gradual return of the 'old normal' brought about by the easing of pandemic restrictions will increase the resonance of bread marketed with health in mind among UK consumers. While he acknowledges Nielsen data showing the growth in bread sales during lockdown was initially driven by standard white bread, he believes priorities are changing along with circumstances.
"This growth was driven specifically by the increase of families looking for easy-to-prepare lunchtime solutions as they work from home. White bread is versatile, convenient and tasty, and something the whole family will eat. However, as people begin to return to work and school, healthy eating has become more important, particularly to families aiming to create healthier lunches that they can all enjoy."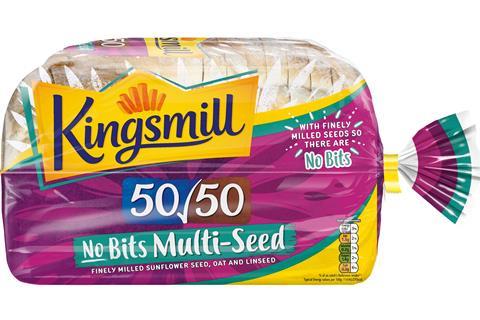 Allied's flagship product that looks to capitalise on this compromise is its Kingsmill 50/50 range – the "largest and fastest growing" of the bakery giant's products. Arguably the most mainstream example of 'better for you' bread, Cullum believes it ticks some key boxes for health-conscious shoppers.
"Consumers are moving away from the 'slimming and diet' fads," he argues. "They want to be able to enjoy their bread as part of a balanced diet."
Family appeal
Dan Beck, head of category planning & activation at Roberts Bakery, observes that campaigns for healthier school meals in recent years have also gained ground with families. This has led to brands like Roberts looking at ways of "getting more functional and nutritious ingredients into staple products", he explains.
"For example, we have just launched a variant to our best-selling Medium and Thick White Sliced loaf, now with added vitamin D. The messaging here is all about added benefits without any change to the taste."
M&S also tapped into this several years ago by using yeast which had been fortified with vitamin D in its bread.
In terms of the key vitamins, minerals and functional ingredients consumers are seeking from healthier bread, vitamin D is "right up there", according to Beck.
"It was the most searched vitamin in the last 12 months, triggered of course by its ability to enhance immunity levels," Beck says. "Daily immune support has become top of mind for many."
Breads that have been fortified with fibre are likely to become more and more popular
Michael Schofield, marketing manager for ingredients provider Bakels, is also a vitamin D advocate. "Take new Multiseed Vitality, for instance, one of the latest additions to the Country Oven range of speciality bread mixes. The product is fortified with vitamin D and so delivering a whole host of valid health claims when made using the base recipe."
According to Schofield, these claims include the vitamin's contribution to the maintenance of bones, muscle function, teeth, cell division, calcium levels and, of course, immune system. "Fortification of breads can provide opportunity for USPs, in a market increasingly conveying healthy messages," he adds.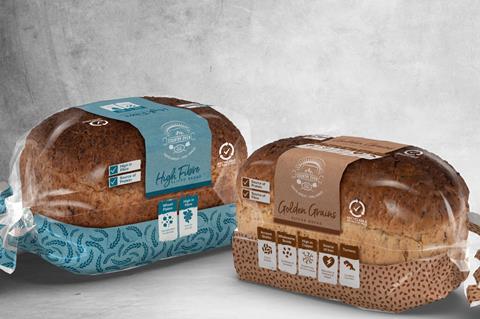 The aforementioned onus on added fibre for bread NPD is testament to this. Olivier Kutz, bakery category development manager for Europe at Tate & Lyle, only sees this trend growing in the future. "Breads that have been fortified with fibre are likely to become more and more popular, presenting a big opportunity for manufacturers," he explains.
Going with the gut
Although a long-established ingredient in bread, Beck of Roberts Bakery also acknowledges there has been "a lot more talk about fibre", which he links to the "gut health trend". Responding to such movements is the key to successfully tapping into demand, he argues.
"The chat around gut health was pretty much born on social channels and it's grown in popularity at a phenomenal rate," he explains. "We now have conversations about gut health like never before. So that prompts product development like [Roberts] Digestion Boost [loaves]. Health messages that are clearly responding to a need are by far the most successful."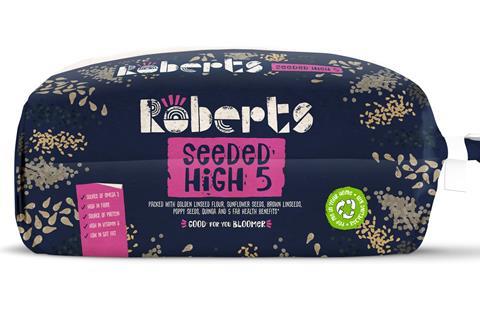 Philippa Knight, marketing director of Puratos UK, says the brand messaging around health should also provide clarity to the consumer.
"The most successful messages will always be clear and easy to understand, which is why source of fibre is such a popular health claim – the majority of consumers know what fibre is and why it's important," she explains.
As consumers begin to cast a keener eye on the list of ingredients of their bread, they are also increasingly interested in the story behind them, including their provenance, says Knight.
"There are plenty of opportunities to fulfil this demand in the bread sector," she says. "With our recent launch of Sproutgrain and Softgrain Oats, we communicated the heritage of natural processes, which date back hundreds of years, when people were sprouting grains to enjoy their many health benefits."
Even when considering health, taste is a key priority
Similarly, Cristiana Ballarini, CSM Ingredients activation director west, south & international, comments that ancient grains such as einkorn and emmer have been rediscovered and are more frequently being used in modern bakery as a natural, unmodified product which appeals to today's health-conscious consumers.
"Ancient grains are also an easy and affordable option for bakers to use, with a reliable source and huge profitability," she explains. "This allows them to tap into the 'healthier' bread trend and showcase their skills in making high-quality products."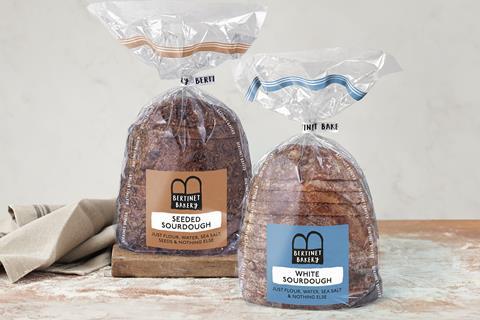 Dean Arbel, managing director of Bertinet Bakery, has also spotted this trend. "Wheat grains have been modified over the years and some of the ancient ones have stronger health benefits," he says.
Taste matters
Whatever the ingredients making up a 'better for you' loaf, however, there is one element the health-conscious bread buyer is not prepared to compromise on: taste. It is undoubtedly the number one consideration when it comes to priorities when buying bread – prioritised by 75% of consumers, according to Mintel.
"So bakers must strike a balance," says Schofield from Bakels. Allied's Cullum agrees:"Even when considering health, taste is a key priority – they want options that deliver added health benefits, whilst still tasting great."
So it seems that while consumers are increasingly looking for bread that's better for their bodies, the most important part to target remains the tastebuds.