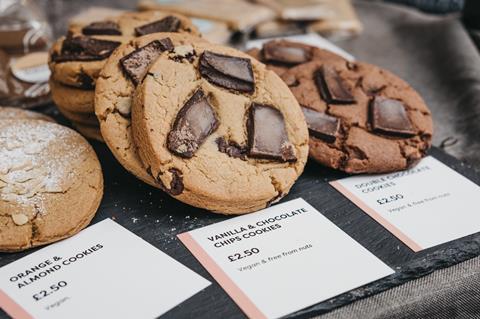 Nearly one in five consumers want dairy-free alternatives, according to new research from Rich's.
The company, which supplies premium bakery products and ingredients, found that UK consumers were increasingly 'flexing' between different eating habits and diets, in a move that was bolstering the free-from market.
Total UK grocery meat-free and plant-based occasions were now worth £3.4bn, it said. Free-from was also booming in the out-of-home (OOH) sector where vegan visits reached half a billion in 2019, totalling a £3.9bn spend. Gluten-free wasn't far behind with a £3.1bn spend in the OOH market.
While committing fully to a lifestyle, such as veganism, was on the rise, so was adopting a more flexible approach such as only eating meat at the weekend, or when out with friends, the study found.
Health purposes were the top reason for consumers moving to dairy- and gluten-free diets, after having an intolerance. Meanwhile, nearly half (49%) of those following a vegan diet did so to help the planet, with compassion for animals the top reason for going vegetarian followed by sustainability.
"People are more willing to try different regimens than ever before, and the rise of free-from products has contributed to this growth. While supermarkets have done well to deliver a range of options, with dairy and pizza alternatives performing well, there is still a big opportunity for the OOH channel to offer more," said Rich's marketing director John Want.
Free-from sweet bakery, worth £54.4m, was one growth area highlighted by Want – particularly as he said it did not have an in-store presence yet.
"Taste is still king, though, and while trial of dairy and meat replacements is high, repeat purchases rely on the products 'being like the original' in terms of flavour and functionality. Our research shows that free-from brands also need to offer more clarity with on-pack labelling, especially with confusion from consumers around free-from/plant-based definitions."
Want added that Rich's had innovation in the pipeline for the grocery and out-of-home channel, which would cater to gaps in the market and further boost the category.