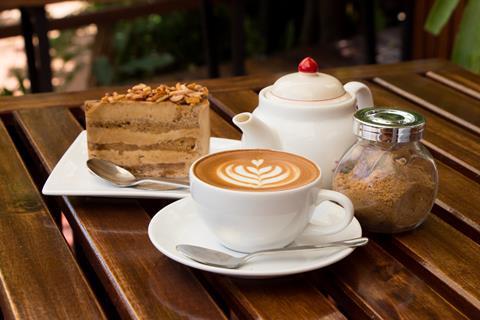 Cakes and drinks sold through coffee shops have become the latest target of campaign group Action on Sugar after it found that over a third exceed an adult's daily limit of 30g of sugar in just one serving.
Action on Sugar analysed the sugar content of 782 drinks and sweet treats sold by 12 major coffee shop chains and bakeries to mark Sugar Awareness Week, which runs from 13 to 19 November. Open cup drinks and unpackaged sweet foods from Caffé Nero, Coffee#1, Costa, Greggs, Muffin Break, Pret A Manger, Soho Coffee Co., and Starbucks were among those included in the survey.
The highest sugar content in a food and drink combination found by the campaign group was from a Thick Shake Toffee Apple Crumble and a Salted Caramel Fudge Cake from Coffee Republic, which contained a total of 157g of sugar, equivalent to 39 teaspoons.
Sweet bakery items discovered to go above the daily sugar limit also included Soho Coffee Co's Sticky Toffee Muffin (62g per serving), Coffee #1's Mince Pie (60g), Costa's Macmillan Carrot & Walnut Cake (51g), and Greggs' Belgian Bun (46g). Notably, just one item, an All-Butter Croissant from Greggs, was observed to be low in sugar (3.9g).
The research also noted that sugar content varied widely when comparing similar products served by the coffee shop brands (see table below for some examples highlighting this), which Action on Sugar said illustrated the food & drink industry's ability to reduce sugar if incentivised.
Product

Coffee Shop

Sugar (g) per 100g

Sugar (g) per serve

Difference per serve (g)

Caramel Shortbread

Soho Coffee Co.

36.8

27.6

7.8

Caffe Nero

30.5

19.8

Cinnamon Bun

Costa

25

30

7.3

Puccino's

20

17

Mince Pie

Coffee #1

43

60.2

37.2

Greggs

32

23
In light of these findings, Action on Sugar is calling on the government to introduce new levies to encourage manufacturers to reduce the amount of sugar and calories in their products, while ensuring nutritional information is available at the point of sale.
Calorie legislation was introduced in 2022 and meant businesses, including coffee shops and restaurants, with more than 250 employees had to display calorie information of non-prepacked food and drink. However, Action on Sugar believes there should be more transparency with more information provided.
The campaign group also urged the government to extend its existing Soft Drinks Industry Levy (SDIL) to cover all juice and milk-based drinks, as well as introducing new levies targeting the high sugar content in sweet foods.
The SDIL came into effect in December 2018, and has resulted in a 44% decrease in average sugar added to soft drinks. This is a stark comparison to the mere 0.2% reduction in average sugar of products that has happened through voluntary measures from the out-of-home sector, Action on Sugar said.
Campaign lead Dr. Kawther Hashem said the use of levies is an effective lever to encourage companies to reduce sugar and calories in their products. "The Soft Drinks Industry Levy is a key example of this which successfully removed a massive 46,000 tonnes of sugar from these drinks as well as raising millions of pounds which has been invested in children's health. We now need to see similar levies introduced across other categories to shift the market towards a healthier direction," added Hashem.
Graham MacGregor is the chairman of both Action on Sugar and Action on Salt, as well as a Professor of Cardiovascular Medicine at Queen Mary University of London. He noted that an unhealthy diet high in saturated fat, salt and sugar, and low in fruit and vegetables, is the biggest cause of death and disability globally, costing the UK alone more than £100 billion annually. "It's time to redefine profit as a healthy population," he commented.
The government's move to further delay the ban on multibuy deals for HFSS products in June was branded "unforgiveable" by MacGregor, who was also "hugely disappointed" by news that restrictions for adverts of HFSS products would be pushed back till October 2025.
The government's decision to omit salt and sugar tax in its food strategy plans last year was described as "shambolic" at the time by MacGregor.