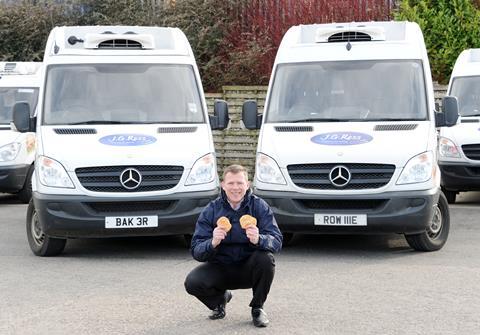 Bakery businesses J.G. Ross and Bells Professional Pastry are among 12 Scottish producers to receive funding from the Food and Drink Federation (FDF) Scotland to help make their products healthier.
The FDF Scotland's Reformul8 Challenge Fund, which was established last year, helps companies with the costs involved in reformulation. This includes nutritional testing and technical support, trialling recipe and process changes, testing the functionality of ingredient alternatives and improving production capacity and operational efficiency.
This August it received £30,000 from the Scotland Food & Drink Partnership Recovery Plan, supported by the Scottish Government, following a second call for funding. The money will be used to support a wide range of projects which cover a variety of sectors including bakery, butchery and snack manufacturing.
Lanarkshire-based Bells, which specialises in the production of pastry, and J.G. Ross, a craft baker which operates several retail sites in the north east of Scotland, were among the recipients alongside Shore Seaweed, We Hae Meat and Peacock Salt.
"At the end of last year we launched the first Reformul8 Challenge Fund – it was oversubscribed and I was keen to offer additional funding to support even more businesses to make their products healthier," explained FDF Scotland reformulation for health manager Joanne Burns.
"I am excited to be working with the successful 12 businesses on a wide range of projects. This includes reducing salt in pie products, increasing fibre in breads, lowering fat content of meat products, lowering sugar and calories in chocolate, lowering sugar and calories in ice cream and lowering sodium content in salt products."
She added the Reformul8 Challenge Fund had proved popular and had been oversubscribed for a second year. "We had 25 applications and it was so difficult to pick which projects to fund," she said.
It comes as the food and drink industry gears up for the introduction of legislation on high fat, salt and sugar (HFSS) products, due to come into force next year, which will place restrictions on the in-store promotional activity and above the line marketing such as television adverts and online content.