Bakery is battening down the hatches as Boris and co prepare to wage war on products high in fat, sugar and salt (HFSS).
At the end of 2020, amid the chaos of Brexit and the continuing pandemic, the government launched an eight-week consultation on the potential ban of bulk buy promotions on HFSS goods as well as outlawing promotional locations such as store entrances, aisle ends and checkouts. What's more, it's also been seeking views regarding the restriction of online adverts for these products.
Cakes, biscuits, morning goods, puddings and pizza are among those in the firing line should the restrictions come to pass. This leaves the baking industry with a dilemma – to reformulate or not?
Manufacturers and retailers looking to make baked goods, which heavily feature fat, sugar and salt, healthier isn't simply a response to the consultations. It's been at the forefront of minds for a long time. The problem is reducing sugar, fat and salt isn't easy – not if you want the resultant products to maintain the desired taste, texture and shelf-life.
When it comes to healthy formulation it's not simply a case of taking out an ingredient, or adding one in
"While demand for healthier alternatives is alive and kicking, consumers are not willing to compromise on taste and when it comes to healthy formulation – it's not simply a case of taking out an ingredient, or adding one in," says Deborah Alexander, head of product at Macphie. "Every ingredient performs a different function, contributing to texture or taste."
Reducing portion sizes is an obvious option. A 2018 study by the Food Standards Agency in partnership with local councils in Northern Ireland found vast differences in the sugar and calorie content of locally produced scones. Calories ranged from 154kcal to 756kcal with the heaviest scone clocking in at 233.3g and 39.2g of sugar – way above the 20g sugar average recorded by the study.
It also kickstarted a raft of smaller NPD a few years back, particularly in the biscuit category, such as the McVitie's Thins range, Maryland Thins Cookies and Oreo Thins.
Slimming down familiar products may be a viable route for new launches but runs the risk of annoying consumers when applied to existing ones.
"Health and taste/texture must come hand in hand for today's consumer: with taste being king and a drive from recent events for consumers to put their health and wellbeing under the spotlight, bakers must provide the best of both worlds," notes Michael Schofield, marketing manager at Bakels.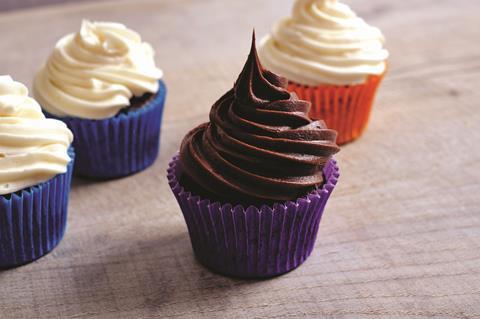 Sugar coat it
For those exploring healthier reformulation, there are several things to consider.
"It is now relatively easy to replace the sweetness of sugar with commonplace sweetening agents. However, the technical challenges lie in the fact that sugar is a highly functional ingredient," explains Robert Lambert, head of marketing and communications at Ulrick & Short. "In other words, the sweetness is not the only factor to consider. Volume, viscosity, mouthfeel, structure, colour, aroma, preservation, and texture of finished products are all factors that must be considered on a case-by-case basis."
Cakes, for example, require sugar to control batter viscosity, aeration, colour development during baking, crumb texture and of course sweetness, notes Campden BRI which has studied the impact of sugar replacement in most bakery products. Biscuits, meanwhile, need sugar for flow control, texture through glassy transition, colour development and flavour.
There are a host of products on the market designed to help tackle this challenge. Ulrick & Short, for example, have an Avanté range of clean label sugar replacers based on starches and flour components which were created to replace the functional properties of sugar. Tate & Lyle also have a range of soluble fibres – which include Promitor Soluble Fibre and Sta-lite Polydextrose – which can help build back mouthfeel and body in baked goods.
"Using fibre to enhance mouthfeel also has the added benefit of meeting growing demand for fibre-fortified products," says Saquib Ramday, category director for beverages, bakery and confectionery at Tate & Lyle Europe.
Reducing both fat and sugar is the most difficult to achieve
Inulin is another solution gaining traction in reduced-sugar sweet treats.
"One of the most commonly used replacement products is inulin, which also contains fewer calories than sugar. Inulin is a soluble, plant-based, non-digestible oligosaccharide and is usually extracted from chicory root," explains Lucas Westphal, senior bakery scientist at Campden BRI.
"Despite providing only one third of sucrose's sweetness, its ability to act as a bulking agent and its beneficial effect on the mouthfeel and body of the product has made it a popular sugar alternative."
However, inulin does not have the same water-binding properties that sugar does which can impact its mould-free shelf life, Westphal adds. The use of a humectant or preservatives can help with this.
It may also cause digestive discomfort for those susceptible to FODMAPS – that's fermentable oligo-, di-, mono-saccharides and polyols, he adds.
"Understanding the complex function of fat and sugar within bakery recipes starts with sensory analysis of both full-calorie and reduced calorie products," says Natalie Sheil, bakery category manager at Synergy Flavours. "Comparing sensory qualities of the two recipes allows flavourists and application technologists to develop a bespoke solution that builds on indulgence, sweetness and flavour intensity, bridging the gap in taste qualities."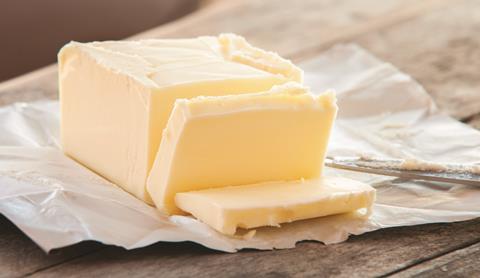 Chew the fat
Fat reduction comes with its own challenges because, like sugar, it has several major functionalities in baked goods (see table below).
This challenge is particularly relevant for British favourites such as pies, pasties and sausage rolls, notes Tate & Lyle's Ramday, which all have a traditionally high fat content. Thankfully, the fillings offer some room for improvement rather than relying solely on the pastry for fat reduction.
"Changing the ratio of filling to pastry would help, but would also have significant cost implications and isn't viable for most manufacturers," notes Lambert.
Vegan-friendly ingredients may also help with this. The Greggs vegan sausage roll, for example, has 2g less fat per 100g than the standard sausage roll (which has 21g of fat per 100g). From the nutritional information alone it's not clear whether this reduction comes from the pastry or filling. Notably, there is also nearly 3g more protein per 100g in the vegan version.
"The growing plant-based trend has given rise to more reduced-fat pastry formulas. Traditionally, puff pastry is made with butter layered between sheets of pastry, but there have been further developments in vegetable-based alternatives that provide the same properties as butter without impacting the renowned flaky texture of puff pastry, as well as offering a lower fat content," adds Ramday.
A fat lot of good
There's a fat chance of creating a well-rounded baked product without the use of butter, oil or plant-based alternative. After all, it's a core component.
"Because of fat's range of functional properties and its significant contribution to the quality of bakery products, it is important to ensure that all technical roles are accounted for in a reduced-fat formulation or in a product that contains fat-substitutes," explains Lucas Westphal, senior bakery scientist at Campden BRI.
Here's what to consider when reducing fat in baked goods:
Major functionalities of fats in baked goods

Functionality

Description

Aeration and stability

Improved retention of gases released from leavening agents. Reduction of gas losses and better expansion of bread, cakes and biscuits. Together with sugar, fats provide a matrix that helps to trap air in cakes.

Dough handling

Reduces the stickiness of dough to machines and surfaces and therefore improves the processability, especially in moulded biscuits.

Enriching

Fats serve as a carrier of flavours. Additionally, some fats are highly flavoured, such as butter, and play an important role to define the flavour of cakes and biscuits.

Texture

The right fat type can achieve a desired short and crumbly texture in biscuits and cookies. High levels of fat prevent the undesired development of gluten in biscuits and cakes. Low levels of fat in bread doughs improves the loaf volume and achieves a finer crumb structure.

Colour

Butter gives a distinctive yellow colour in biscuits or cookies and helps with browning. Other fat types can be used if a more neutral colour is desired.

Shelf-life

Fat is a hydrophobic molecule and prevents the migration of moisture into biscuits and increases their shelf-life. Other products, such as bread and cakes, retain their softness for longer if the right amount and type of fat is used.
Source: Campden BRI
All or nothing?
The difficulty really presents itself when manufacturers try to do too much at once.
"Reducing both fat and sugar is always the most difficult to achieve as often fat or sugars are interchangeable – reducing one may mean increasing the other," explains Abigail Shirley, category manager UK & Ireland at Dawn Foods.
There are other things to consider, such as cost. However, there is some debate as to whether healthy reformulation drives costs up or down.
"Often reducing fat and sugar in products incurs a cost increase as the replacement ingredients are more expensive. It is a careful balancing act trying to reduce fat and sugar whilst keeping products good value for money," says Shirley.
Campden BRI's Westphal notes that this can be the case when more than one ingredient is needed to replace sugar. It also runs the risk of "negatively affecting consumer acceptability" due to the number of ingredients that need to be listed on the label.
However, Ulrick & Short's Lambert insists that "healthy reformulation doesn't have to squeeze margins for manufacturers", adding that the firm's Delyte fat replacers can save manufacturers money when applied at certain percentages, and they are replacing premium ingredients such as double cream.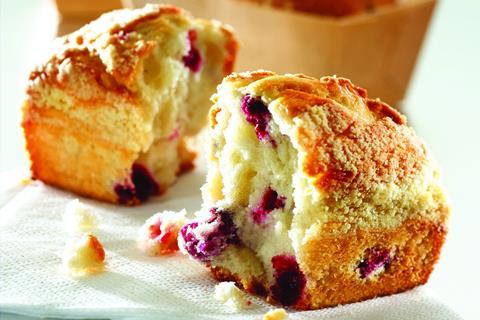 Dawn Foods meanwhile advocates for ready-made solutions – of which there are several choices in the marketplace. It has a reduced sugar and fat Crème Cake mix, which it says is ideal for muffins, sheet cakes and sandwich cakes, and contains 30% less fat and sugar than standard Dawn mixes.
A 30% reduction is also the magic number for Macphie which offers reduced sugar cake and muffin mixes, available in plain and chocolate variants. They contain no artificial sweeteners and instead use a 'natural vegetable fibre replacement'.
CSM Bakery Solutions is also looking to enter the arena with a 30% reduced sugar cake mix, comparable to its Craigmillar's Crème Cake Mixes, later this year.
Often reducing fat and sugar in products incurs a cost increase as the replacement ingredients are more expensive
Regardless of the route bakers and manufacturers choose to take, there is a big opportunity there for those that can succeed in creating reduced sugar and fat treats comparable to their full sugar and fat counterparts, according to Tate & Lyle's European bakery report. Almost three quarters (73%) of the 400 senior industry professionals polled said reduced sugar and calorie products are the biggest driver of growth.
"With this in mind, reformulating products to improve their health credentials should be a priority for manufacturers in the months ahead," Ramday adds.
This is echoed by Synergy Flavours' Sheil who highlights a Mintel report called 'The impact of Covid-19 on cakes and cake bars' which found that healthy options in the cake category could drive sales.
"Seventy-three per cent of consumers think that a cake can be healthy and delicious. However, there are still some challenges in creating a great tasting cake with improved nutritionals," she says.
As Lambert succinctly puts it: "There is no 'one size fits all' solution when it comes to sugar and fat reduction."
On the plus side, at least the industry has plenty of options to explore while it waits to see what action Boris and co decide to take.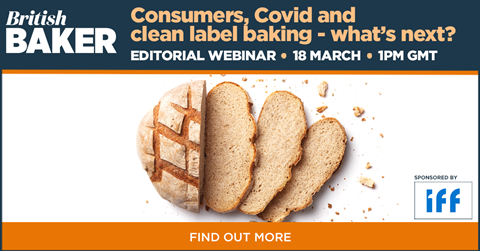 Consumers, Covid and clean label baking – what's next?
Want to know more about reformulating baked goods and keeping things clean label? The be sure to tune into British Baker's webinar on Thursday 18 March at 1pm.
Clean label has been identified as one of the top trends for the bakery market in 2021, particularly with regards to 'healthier' products.
In this webinar, British Baker and a panel of industry experts will explore what clean label means to consumers and those in the industry, how bakery manufacturers and suppliers can tap into it and whether it's possible to reformulate to make products healthier while keeping things clean label.
Confirmed speakers incude:
Emma Clifford, associate director - Food and Drink Research UK, Mintel
Andrew John Flounders. senior applications specialist, IFF
To find out more, and to register for the event, click here.