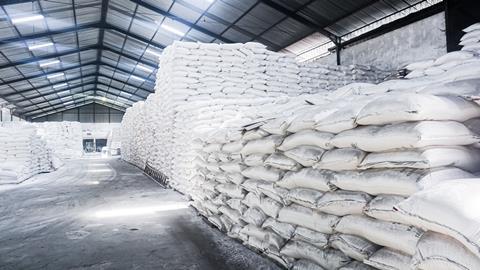 Global ingredients marketplace TraceGains has launched Sales Hub, a new app designed to empower suppliers to better promote their products to the global food and drink industry.
As part of its Gather platform, Sales Hub helps connect suppliers with buyers who know precisely what ingredients they need and are actively seeking new supplier relationships. It is said to have the ability to identify and capitalise on high-quality leads, expedite sales processes, and enhance customer satisfaction.
"Suppliers are the lifeblood of our marketplace, and we're continually looking for innovative ways to enhance their presence and streamline connections with brands," said Emma Karp, product manager at TraceGains.
"For years, we've pushed back against single-use portals and burdensome, one-off processes, helping suppliers serve multiple customers at once. TraceGains Sales Hub is the next logical step for our Gather platform, creating that same experience for suppliers looking to reach new markets and grow their businesses.
"This exciting innovation is poised to transform the way ingredient suppliers operate, allowing them to focus on what they do best while getting more direct leads from active buyers, leaving the guesswork and confusion behind," Karp added.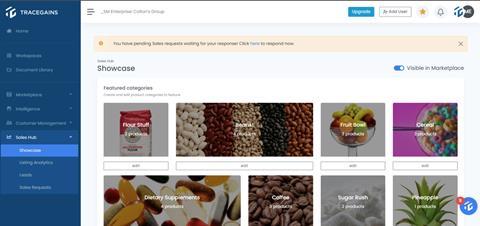 Key features of TraceGains Sales Hub include:
Showcase – ingredient suppliers can create virtual storefronts for their product catalogues, and can configure featured products and listing information to market directly to buyers actively seeking specific materials
Sales Requests – suppliers can receive and handle customer inquiries
Sales Leads – automation of the capture and tracking of current and potential customer interactions
Listing Analytics – reporting tools automatically track listing performance and activity, allowing suppliers to identify top-performing listings, monitor views and trends over time, and measure requests and document downloads
In our recent feature on the UK bakery supply chain, TraceGains claimed that digital solutions had enabled its customers to reduce sourcing and supplier approval time by 50% and fulfil 75% of resourcing needs. The TraceGains global marketplace currently lists more than 64,000 supplier locations and over 466,000 items and ingredients.