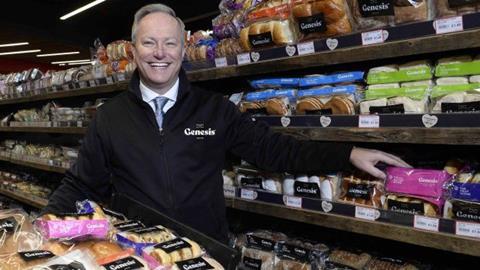 Genesis Crafty, which was sold in a pre-pack deal last year, has been given a new look and name.
The company, based in Magherafelt, Northern Ireland, has dropped the word 'Crafty' and unveiled a new look, products and recipes. It has changed its strapline to Genesis – Baking it better since '68.
The revamp comes 15 months after McErlain's Bakery, producer of the Genesis Crafty range and own-label cakes and breads, was sold as a private investment to Paul Allen, former CEO of snacks supplier Tayto Group.
"We have been listening to customer feedback and have introduced a fresh, bold contemporary new look for the Genesis brand range," explained Allen. "Our customers love our products' traditional credentials and, with new eye-catching packaging, they will be able to see exactly what they are getting."
Research has also prompted development of new recipes to offer increased shelf life and better taste. The range, which includes wheaten bread, pancakes, scones, soda bread, hot cross buns, coconut and iced fingers, brioche rolls and baps, is rolling into stores now.
A revamped cake range is planned for next year, when the company is also set to roll out 100% recyclable packaging that is currently being trialled.
"We are committed to maintaining our high-quality standards and developing innovative product ranges," said Genesis commercial director JP Lyttle. "It is this strive for excellence that has assisted us in winning a range of significant new contracts over the last 12 months."
The company is aiming to further grow market share by supporting the new branding with sampling, point-of-sale, digital, consumer and trade PR.
Genesis currently employs more than 350 staff and plans further recruitment in the next 12 months.