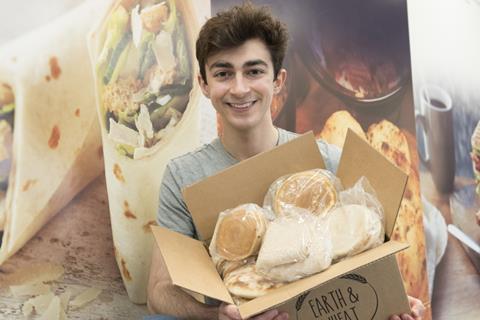 Wonky bread and baked goods subscription service Earth & Wheat is on the hunt for independent UK bakeries to partner with to help redistribute surplus products.
Started by fourth-generation baker James Eid, the company currently sells crumpets, pancakes, flatbreads, and other baked goods from Signature Flatbreads which was established by James' grandfather Samir Eid in 1984.
Having redistributed more than 40 tonnes of surplus bread that would have otherwise been binned due to size, appearance or overproduction, the business is now looking to expand. It has built up a customer base of 'wonky warriors' with over 10,000 orders processed in the 12 weeks since launch.
Customers can subscribe to Earth & Wheat boxes on a weekly, fortnightly, every three weeks, or monthly for around £6.89. As new bakeries joining the service Earth & Wheat's range will expand.
"It had always been the plan that once Earth & Wheat had an established customer base we would push on and onboard other bakeries around the UK and, I'm happy to say we're now at this exciting stage," Eid said.
"We're looking to partner with environmentally-conscious bakeries who are interested in reducing their food waste and turning that loss into profit. We've invested in software with integrated logistics which provides a streamlined and efficient way to rescue bread from bakeries all over the UK, delivering to our Earth & Wheat loyal community."
Eid believes his surplus bread distribution platform offers bakeries a practical solution for reducing food waste which will also improve their bottom line. "Earth & Wheat is striving to reduce food waste in this country and by onboarding new bakeries to rescue their waste we can make a real difference – distributing bread that would otherwise been thrown away. Our solution is profitable for our partners, and a far better option for the environment," he added.
Around 16% of food waste is at the point of production, he noted, with recent research from food waste app Too Good To Go highlighting that less than half of UK bakeries have a food waste reduction plan in place.