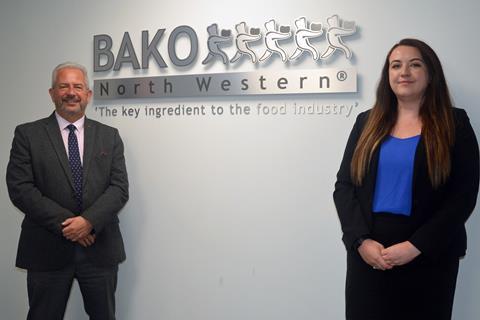 Bakery products distributor Bako has appointed Abigail Blackburn as senior commodities buyer to replace Frank Wade, who is retiring.
Wade, who is leaving the Preston-headquartered business after nearly 14 years, began his career in the baking industry as a management trainee with Holland's Pies in 1980. He later developed a career with Northern Foods before joining Bako in 2008.
Blackburn brings six years of buying experience to her new role, having previously worked for Sykes Seafood, John Morley (Importers) and EHL Ingredients.
"I am really excited to be joining Bako and am looking forward to developing and building lasting relationships with key suppliers and stakeholders within the industry and applying my knowledge of global commodity market trends and fluctuations," Blackburn said.
"As well as building great relationships, I'm particularly passionate about sustainability and identifying projects and continuously striving for implementing sustainable solutions at source, in production facilities and throughout the supply chain," she added.
Bako Group's full list of divisions includes Bako Ltd, Bako Northern and Scotland, and Bako South Eastern. Its industry accreditations include the BRC Global Standard for Storage and Distributions.