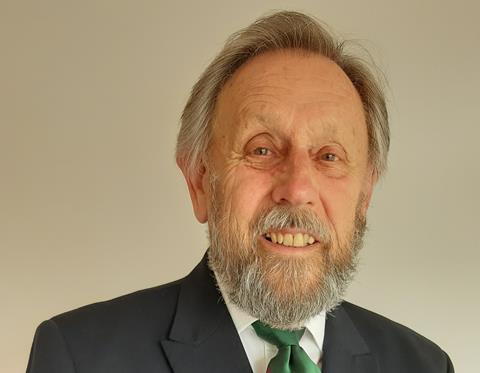 The Craft Bakers Association (CBA) has named Patrick Wilkins, past master of the Worshipful Company of Bakers, as president elect.
Wilkins will be installed as the CBA's president at the trade body's business event on 22 June 2023 where he will take over the role from Neil Woods.
Wilkins grew up in London and had a 32-year career in the police service, primarily within very specialised areas of the Criminal Investigation Department and working with law enforcement agencies in Europe and the United States, including the FBI. An extended period investigating major fraud provided knowledge of business and commerce at all levels which benefited him in his post-career work with a number of charities.
Despite not being a baker by trade, Wilkins has been involved in the baking industry for many years. CBA members were first introduced to him through the trade liaison aspect of the Worshipful Company and his 'extensive support' of the industry during his term as master in 2016/17. Since then, he has continued to support the CBA's work.
Wilkins said it is "an honour and a privilege" to accept the nomination as the CBA's president elect. "Over the last 23 years, through my active involvement in the trade aspect of the Worshipful Company of Bakers and the events I attended throughout Britain and elsewhere during my year as master, I have gained a considerable knowledge of the baking Industry and made many valued contacts and friends," he added.
"I have found craft bakers at every level to be highly skilled, hardworking, and immensely dedicated to their craft. I hold them in the very highest regard and look forward to a happy, productive, and hopefully fun-filled year representing the association, and promoting its excellent work to support them."
Following his involvement with the Worshipful Company of Bakers, Wilkins extended his links with the trade in his ongoing role as a trustee of the Bakers Benevolent Society, which cares for former members of the baking industry.
"We are delighted to welcome Patrick as our president elect," added CBA chairman George Fuller. "He has a strong personal commitment to not-for-profit organisations, and a deep knowledge and understanding of our industry and the people who work in it.
"On a lighter note, Patrick told us that in the last few years he has fulfilled a long-term personal ambition of trekking to Mount Everest, where, incidentally, whilst in the Himalayas, he visited the highest bakery in the world. We won't be asking him to do anything nearly so arduous in his role as president!"