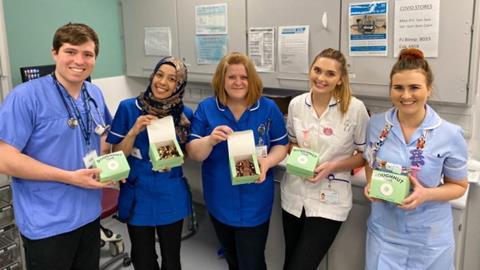 Bakers across the country are helping to support NHS heroes who are working around the clock by offering discounts and donating baked goods to hospitals.
Here are a few examples of how the baking industry is stepping up to help.
Jacksons of Yorkshire
Caption: Corby factory general manager Gavin Richards (in pink) delivers 1,927 loaves to Kettering General Hospital
Jacksons of Yorkshire has been busy delivering loaves of bread to local NHS staff.
"When we heard that NHS heroes in our local communities were going shopping after long shifts and finding empty shelves, we offered to deliver thousands of loaves of bread them each week," said Dorian Hiles, MD for Jacksons, which has bakeries in Hull and Corby.
"This started with hospitals in Hull a couple of weeks ago and the response from the NHS staff and people in our community was amazing; we couldn't have asked for kinder comments on social media."
The bakery is also delivering weekly into Harrogate and District NHS Foundation Trust and Kettering General Hospital, as well as supporting charity Fareshare and local hospices.
Paul is aiming to deliver to at least two hospitals per week in what it describes as a "token gesture to show its appreciation and gratitude to NHS workers on the front line". On Friday 27 March, staff at Northwick Park Hospital in north-west London received donations of fresh loaves of bread, croissants and cakes, while St George's Hospital in Tooting took delivery of goods yesterday.
The bakery and patisserie chain has temporarily closed all 37 shops in London and Oxford, but kept its main bakery open, through which it operates The Bread Market retail outlet.
It also continues to donate food to London-based charity The Felix Project on a daily basis.
Henllan Bakery
Staff at Glan Clwyd Hospital in Wales were thrilled to receive more than 400 individual cakes slices from Henllan Bakery and took to Twitter to show their appreciation. They received a variety of treats, including Henllan's Salted Caramel Slice, Toffee Slice and Krispy Slice.
The family-run bakery is planning cake drops to the other two large hospitals in the region over the coming weeks.
McVitie's
Staff at Ealing, Central Middlesex and Northwick Park hospitals in London were treated to hundreds of packets of biscuits and chocolate bars from Pladis-owned McVitie's.
Hobnobs, Digestives and Club Bars were among the "small mountain" of goods that have "flooded into the hospital" over the past fortnight to encourage NHS staff to stay strong.
Caption: LNWH charity manager Geraldine Dammen with some of the donated goods.
Whitworths
After seeing the heroic efforts of hospital workers and NHS frontline staff, baking industry supplier Whitworths wanted to help in any way it could.
"We've already started creating and sending healthy snacking and recipe bundles to NHS staff and other key workers around the country. Dried fruit and nuts are a great source of vital nutrients, important for energy and immunity, and give you a quick energy boost," said Jessica Horton, digital marketing executive at Whitworths.
Doughnut Time decided to close its 15 London shops last month and, as such, was left with a surplus of fresh, handmade doughnuts, but nowhere to send them.
"The only logical next move was to spend the day visiting NHS hospitals, donating our doughnuts to the wards, the emergency service depots, the doctors, nurses, trainees and support teams. They're all working so hard and such long hours – it was the least we could do to express our gratitude and, hopefully, bring some joy," the company said.
The doughnuts were delivered to Royal Surrey County, Royal Berkshire and Basingstoke hospitals.
The Bakehouse Manningtree
Independent artisan bakery The Bakehouse Manningtree is looking to show its support and appreciation for the hardworking staff at Colchester Hospital with a weekly delivery of cakes, it said on Facebook. The bakery plans to deliver to a different ward every week, so as many staff as possible can benefit from the treats.
Dominique Ansel
Dominique Ansel is offering 50% discounts for NHS staff, who can visit its sites in central London, where it's offering a takeaway service. It is also able to send food packages, completely free, to fuel teams of local hospitals. Staff just need to get in touch to arrange a drop-off.