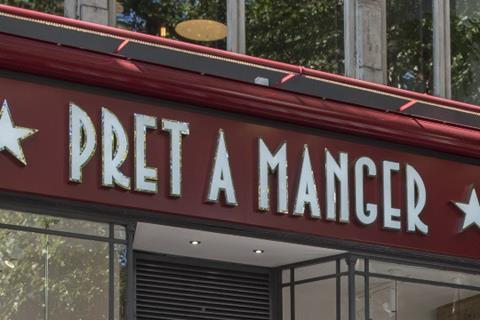 Pret A Manger is increasing its support for people in need with 20p per purchase of its bestselling baguettes donated to the Pret Foundation.
The money raised from sales of Pret's Chicken Caesar Bacon and Posh Cheddar & Pickle baguettes throughout April will target new jobs for those experiencing or at risk of homelessness, refugees and ex-offenders. In addition, 10p for every soup purchased will continue to be donated to the Pret Foundation.
The coffee chain expects to raise over £100k during the month of April as a result of the initiative.
The funds will go towards the training and support of 75 people in need of a second chance through the foundation's Rising Stars programme over the next 12 months. This, the company said, will give people an opportunity to work at Pret and 'rebuild their life', with training and travel to weekly support groups provided.
The 75 new roles are in addition to the 50 new roles created for those fleeing the war in Ukraine as part of Pret's Ukrainian Employment Programme, announced in March.
To help raise awareness of the campaign, Pret has enlisted TikTok star Ehiz Ufuah, a former homeless drama student whose comedy clips have grown an audience of 10 million followers on the platform. Ehiz hopes to encourage even more people to get involved in the fight against homelessness, poverty and hunger.
"Having lived in emergency accommodation with my mum, without a home, I know how real this problem is," said Ufuah. "I'm proud to be working with Pret to highlight the rise in poverty and homelessness in the UK and encourage everyone to learn more about the problem and do what you can to help."
The Pret Foundation was created over 25 years ago with the aim to help alleviate poverty, hunger and homelessness nearby the company's shops.
"What started out as a charitable project for Pret has grown into a registered charity, operating across the world supporting grassroots charities, offering food donations, and in the UK, funding our Rising Stars programme which looks to employee those most in need," said Nina Allard, global head of The Pret Foundation.
"Since the start of pandemic, the industry has reported an increase of over 70% in requests for homelessness support in communities, so it's clear that more needs to be done, so we're thankful for Pret's ongoing commitment and support," Allard added.
Guy Meakin, interim managing director of Pret UK&I, said he was "immensely proud" that the company was able to help those in need.
"Ever since we opened our doors, we've been focused on helping those most in need. The past two years have been exceptionally difficult, and as a result, homelessness, poverty and hunger are a growing concern," Meakin said. "That's why we're ramping up our support, looking to take on more refugees and homeless people this year as part of The Pret Foundation's Rising Stars programme, and why we're donating from select bestselling baguettes this month."