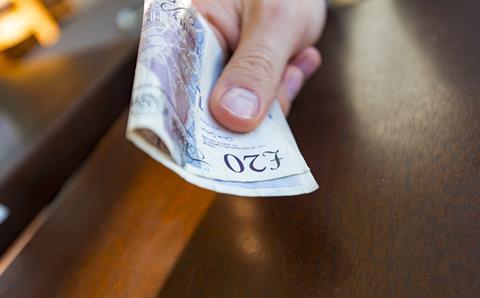 Cash payments in bakeries have plummeted during the pandemic, according to a new survey by the Craft Bakers Association (CBA).
Eighty-two percent of bakers who participated in the research reported a decline in shoppers paying by cash with nearly all of them expecting the decline to continue in the future. However, the survey shows that 95% of bakers still accept cash.
The survey was carried out by the CBA amongst its members in partnership with payments company MultiPay. The CBA represents approximately 500 bakery businesses in England, Wales and Northern Ireland – from startups to established bakeries – supporting 3,000 shops on the high street.
In addition, the survey found that more than two thirds (69%) of those questioned said that contactless was the most popular payment method since the start of the pandemic, followed by chip and pin – another trend expected to continue going forward.
Concerns around hygiene were cited as a potential reason for the decline in cash payments however some bakeries made the decision to not accept it, particularly during the early days of lockdown.
"Not only are cashless methods of payment usually more hygienic for both bakers and shoppers, they also offer bakers increased business efficiencies," said CBA director of operations, Karen Dear.
Jenna Hamlyn, head of marketing communications & PR at MultiPay, added: "Whether customers choose to pay with card, contactless, a mobile device or even online, by being able to accept any payment, anywhere, UK bakers are able to focus on what they do best, keeping their customers happy and running their businesses. By being able to meet their customers payment expectations, bakers can continue to future-proof their businesses and remain competitive."