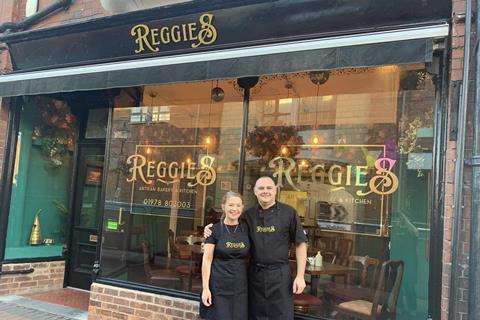 An inaugural shop, a relocating café, and a first UK venture for a high-end international brand are included in our latest round-up of new openings from craft bakery businesses.
Also featured are estate extensions to bakery chains – one based down in London and the other way up in the Scottish highlands.
Adding to our previous Opening Doors editions (catch up on the most recent one here), we discover more about the newest arrivals to the UK craft bakery scene: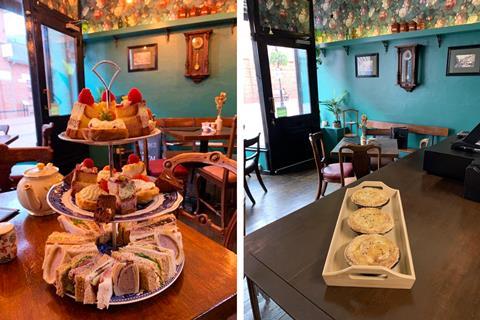 Reggies Artisan Bakery & Kitchen, Wrexham
This recently opened and exquisite-looking café located on Chester Street in Wrexham city centre is the brainchild and first bakery business of experienced head chef Richard Sommer.
As a pie-making master, Richard's signature product is his Crogan pie, made with lamb, apricot and red wine. The daily range includes freshly baked bread, paninis, toasties, sandwiches, croissants pain au chocolat, scones, and brownies, along with homemade dressings, chutneys, chilli and curry. Customers can also indulge in an afternoon tea selection of sweet and savoury treats at £17.50 per person.
The building's bakery heritage, dating back to Victorian times, is showcased by original features such a cast iron bakers oven in the bakery room, which customers can look into to see Sommer and team at work. There's a seating area for 16 covers (plus an antique railway bench for four), hoping to cater for locals and tourists alike.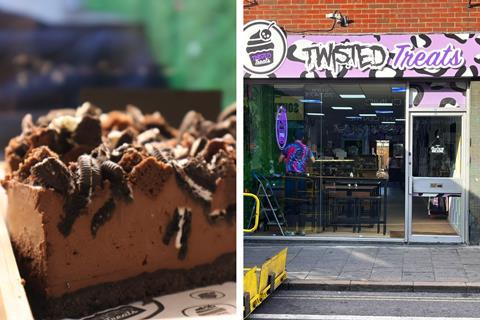 Twisted Treats, Colchester
With the company unable to continue the lease at its original shop in Mersea, a successful crowdfunding campaign helped set up a new, more affordable site in nearby Colchester.
Jo Lucking first launched the brand out of her flat's living room in 2018, progressing to bricks & mortar retail with the specific intention of providing a 'neurodivergent safe and friendly space' for customers.
Offerings include an array of sweet treats such as brownies, cookies, and bespoke cakes.
Kayu Bakehouse, London
The self-described 'artisan dessert boutique' has announced its first foray in the UK market – by way of the Middle East – at Mayfair's Shepherd Market precinct.
Kayu is said to mean a patient, meticulous person who enjoys working in a very detailed, systematic way, with such meticulousness expressed in the international brand's range of French-style creations made with only natural ingredients.
These feature the likes of Raspberry Cream Cheese Croissants, Double Chocolate Brioche, and signature items including Mousse Chocolat, Mosaic Roll Cake, and eclairs. Cusomters can also enjoy a selection of macarons, tarts, and travel cakes.
"We are bringing our signature menu and passion for pastries to the heart of London," commented head chef Karim Bourgi, who holds pastry crafting experience at high-class establishments in France, Dubai, and Kuwait.
Harry Gow, Aviemore
Double-winner of Scottish Baker of the Year has unveiled its 18th retail outlet in the town of Aviemore, located in picturesque Cairngorms National Park.
Inverness-headquartered Harry Gow noted it had completed a long search to find its newest batch of bakers, who have been trained in its Smithton bakery ahead of opening.
"As this day has been a long-awaited one, we plan to celebrate it in true Harry Gow fashion by handing out individual dream rings to go along with any purchase from our sweet and savoury range of bakes," said company director David Gow.
"This includes many fan favourites, such as our marzipan apples and pineapple tarts, as well as our savoury pies, freshly-made soups and rolls, and our wide selection of freshly baked breads."
B Bagel, London
The Camden High Street shop marks the bagel specialist's fourth site in the capital – joining existing locations at Tottenham Court Road, Soho, and Fulham Road – with four more London shops planned for the coming six months.
Opening on 23 November, the new 1,750 sq ft site will offer 26 covers and also cater for takeaway or delivery via Deliveroo. B Bagel notes it uses a traditional family recipe for its bagels, which are prepared and baked in-store, resulting in a crispy outside, and chewy, doughy inside.
Priced from £3.50, they include classic fillings such as smoked salmon & cream cheese, hot salt beef, an cheese & tomato. Meanwhile, signature fillings include Sabich filled with houmous, boiled egg and grilled aubergine, or chicken schnitzel with lettuce, tomato, mayo, and sliced pickle. There also some sweet bagel options like Nutella, peanut butter, or blueberry cream cheese.
"Bagels are experiencing a resurgence, particularly in the capital, so this is a great time for us to be ramping up our expansion plans," said co-founder Yoav Baumgarten.