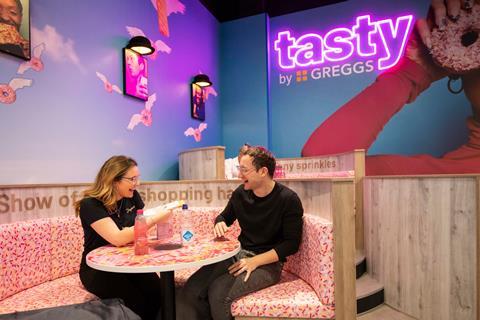 Greggs has continued the roll-out of its Tasty by Greggs café concept by opening a new site in a Primark store in London's Oxford Street.
The move has been described by Greggs as the next step in its collaboration with Primark, and follows the opening of the first Tasty by Greggs café in Primark Birmingham in February.
Located on the top floor of the Oxford Street store, the 110-seater café features vibrant interiors, doughnut-inspired seating booths and a sausage roll swing. It will offer products such as sausage rolls, bakes, pizzas, sweet treats and freshly ground coffee. Hot food to go will include hot yum yums with salted caramel or milk chocolate dipping sauce and pizza sharing boxes with a range of toppings.
Greggs is promising visitors a fun experience with a double decker-inspired bus with booths for those dining in, a Greggs phone box with interactive digital games and a vintage style free-standing bike.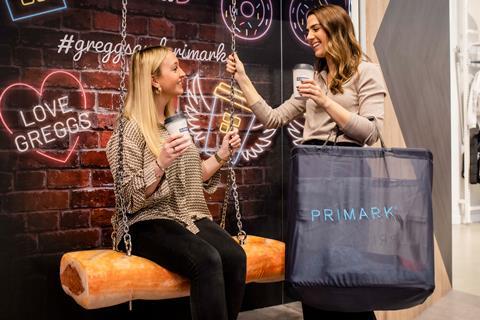 "Since opening our first Tasty by Greggs, it's been brilliant to see fans enjoying the world's biggest and most Instagrammable Greggs in Primark, Birmingham," said Greggs property director Tony Rowson. "Opening our second in Primark's flagship Oxford Street East store will be yet another milestone in our wider London expansion."
The new café follows the opening of Greggs shops in London locations including Leicester Square, Liverpool Street Station and Tottenham Hale Station.
Greggs has been pushing ahead with expansion despite cost pressures. This month it reported it had opened 106 new shops and closed 16, giving a total of 2,271 as of 1 October 2022 (made up of 1,860 company-managed shops and 411 franchised units).
At the time, the business said it is on track to reach its goal of 150 net openings for 2022, 40% of which are expected to be with franchise partners.
A High Court judge last week ruled in favour of Greggs in an insurance dispute that could see the business receive millions of pounds in additional payment from its insurer.