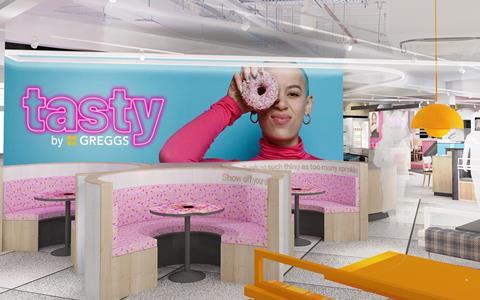 Greggs is set to open its largest site in the world in Primark's flagship store in Birmingham as part of a collaboration between the high street brands.
Called Tasty by Greggs, the 130-seater café will open its doors in Primark's Birmingham store on Saturday 12 February. It will offer favourites from the Greggs range including sausage rolls, bakes, pizza, sweet treats, coffee and hot food-to-go. Customers will also be able to make click and collect orders via the Greggs App, which was launched last year.
There will also be a refillable water station and a self-serve coffee cart offering customers the chance to skip the queues and pay using contactless.
The site looks different from Greggs' other locations and includes a range of features designed to deliver the 'ultimate Greggs experience'. Notable design features include flying vegan sausage rolls, a sugar strand doughnut swing, and a picnic area as well as doughnut inspired seating.
"Our Tasty by Greggs café will be the first of its kind, and will offer an exciting Greggs experience, underpinned by the great products and service that's already delivered across all of our shops," said Raymond Reynolds, business development director at Greggs.
It takes over the mezzanine level and is the latest experience to open within Primark's flagship store, which also includes the Primark Beauty Studio and Disney Café.
The brands have also teamed up on a clothing range – the first of its kind in Greggs' 83-year history. Comprising clothing and accessories, the 11-piece range will be available in Primark stores across the UK from Saturday 19 February with an exclusive boutique opening in London a couple of day before.
"We want to give our customers incredible experiences in our stores and offer collections they can't find anywhere else, with brands we know they love," said Tim Kelly, director of new business development at Primark. "We're thrilled to have teamed up with Greggs to bring the Tasty Café to our Birmingham store and give fans of the brand the chance to get their hands on the limited-edition clothing range."