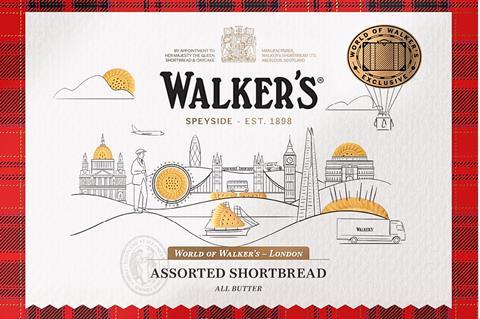 Walker's Shortbread is partnering with retailer Dufry for the launch of a new Global Travel Retailer range into more than 55 travel sites worldwide.
The 19-strong product line-up is available exclusively across all UK Dufry sites, including Heathrow and Gatwick, from 1 April for two months. It will then be rolled out across Global Dufry and wider travel retail outlets from June.
The new range, with rsps ranging from £6 to £15, includes: five Gift Tubes (Shortbread Thistle Rounds, Chocolate Chip Shortbread, Highlanders, Oat Shortbread and Salted Caramel & Chocolate Shortbread 200g); Shortbread Petticoat Tails Gift Box (225g); Shortbread Scottie Dogs Gift Box (150g); World of Walker's Assortment Gift Box (320g); Shortbread Fingers Twin Pack (750g); and two Sharing Bags available with Shortbread Fingers and Chocolate Chip Shortbread (250g).
The range will also include UK-specific products, including three Sense of Place Gift Boxes, containing Thistle Shortbread (200g) and Union Jack Shortbread (175g). In addition, there will be dedicated London and Scotland World of Walker's Assortment Gift Boxes (320g) and two Gift Tube Triple Packs (Classic Scotland and Decadent Favourites). Walker's Royal Tins will also continue to be stocked across UK Dufry Stores including a new celebratory Jubilee Tin.
The premium gifting range will be the company's first to include an on-pack QR code. This will link to a dedicated landing page providing specific information on the product purchased, with the multilingual platform also providing an illustrative summary across Walker's sustainability milestones and responsible business practice targets.
Walker's said the range represented its latest strategic step to evolve the brand in line with global customer and consumer demand, including invested focus across sustainability and digitisation.
The partnership with Dufry will also see sites at Heathrow Terminals 3 and 5 feature refreshed wall bay fixtures including digital screens, while seasonal tasting and sampling activations are already planned later in the year, including Heathrow T2 and Gatwick's new South terminal. The partnership will be supported by global staff training, digital partnership programmes and a continued innovation pipeline, Walker's said.
"We are excited about the new launch, and I am delighted that the new range continues to represent Scotland at its finest," said Walker's managing director Nicky Walker. "We have been operating in travel retail since 1975 and it remains hugely important to us that our heritage is both celebrated and respected as we continue to shape a stronger future."
Walker's said the new range was in line with its commitment to sustainability, with the use of recyclable paper skillet across most lines, fully recyclable paper sharing bags, and fully recyclable gifting tubes with paper bases.
"The launch of this new Global Travel Retail range is another example of the way in which Dufry and its global brand partners are collaborating to adapt the travel retail offer to customers' evolving lifestyle agendas," said Philippe Moryl, Dufry's global head of category – confectionery & food. "We are delighted to continue our journey with Walker's and very much look forward to developing our collaboration beyond the UK and taking this category to the next level."