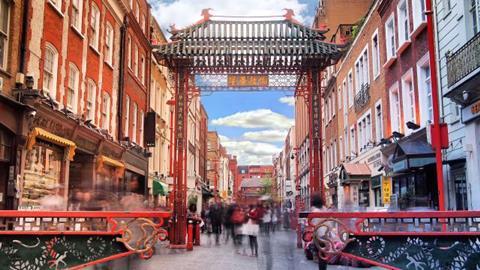 Think of London's Chinatown and you probably think of the red and green arches that signify its borders, rows of ducks hanging in windows and an array of delicious Chinese restaurants.
But nestled among these are a wealth of bakeries and patisseries offering authentic pan-Asian delicacies designed to entice and even surprise visitors to their humble establishments.
"Visitors to Chinatown London can experience new concepts and flavours that are at the forefront of food trends in East Asia, such as the ube bilog at Mamason's or the signature mille crêpes at Kova Patisserie, alongside traditional custard buns from Golden Gate Cake Shop," explains Julia Wilkinson, head of group restaurant strategy at Shaftesbury, the real estate investment trust that manages a number of shops, restaurants, apartments and offices in the district.
Shaftesbury seeks to balance old traditions with modern concepts to maintain what it describes as an "eclectic range of eateries".
"Authenticity is a key factor when it comes to prospective tenants; their offer needs to be reflective of East Asian trends, whether modern or traditional," adds Wilkinson. "Kova Patisserie is a great example of this – by pairing the highest-quality Japanese ingredients with traditional French techniques, it honours their Japanese background while creating a unique dessert-led product."
Here's our pick of Chinatown's operators and what they have to offer: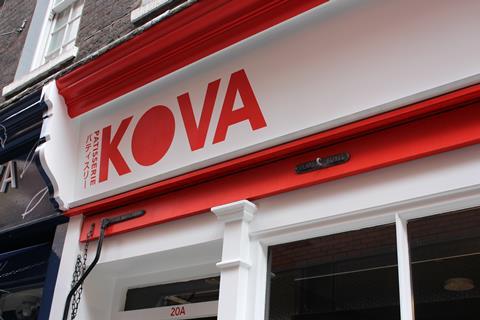 Kova Patisserie
Japanese fusion dessert specialist Kova Patisserie is one of the newer additions to Chinatown, having opened in summer 2019. The 240sq ft unit represents the brand's third in London, with its other sites found in Selfridges' food hall and St Anne's Court in Soho.
"We are inspired by the ability to create great fusion between Japanese culture and Parisian patisserie tradition and are devoted to inventing products that combine the best of Eastern and Western patisserie," explains Jon Cai, co-owner of Kova Patisserie. "Our bestselling product is our mille crêpes range. They are light, delicious, and have a unique texture."
Flavours include chocolate, coconut, matcha and vanilla, which often extend to Kova's other items such as its cakes, tarts and cake rolls.
The cakes are chiffon, with flavours such as strawberry shortcake and sea salt cheese lava cake. Cai says chiffon cakes are softer and moister than a classic sponge cake, but as a result are more delicate, meaning Kova requires experienced pastry chefs to perfect its creations.
With its vibrant green hue and earthy palate, matcha is gaining popularity in UK bakery and is no stranger in the desserts of Chinatown.
However, Cai admits that not all flavours translate: "Hojicha is a roasted green tea that is popular in the Far East, but struggling to gain traction in the UK, especially when used in food. Perhaps when Brits get used to matcha and want to explore more tea varieties, they may look into hojicha again."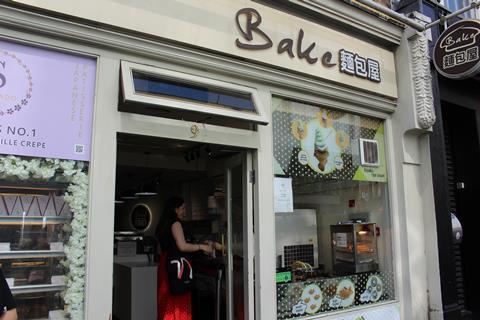 Bake
Bake joined Chinatown's ranks in 2016, offering sweet and savoury buns as well as the iconic taiyaki ice cream cone.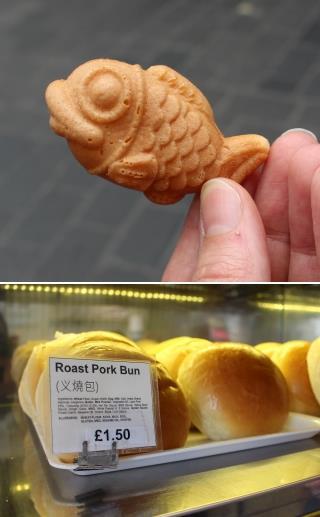 The baked roast pork bun is consistently Bake's top seller, owing to its great value for money (at £1.50) and traditional style. But the savoury spring onion chicken floss and sweet green tea red bean mochi are hot on its heels, embracing the snacking trend and, in the case of the latter, matcha.
"The spring onion chicken floss and green tea red bean mochi are new inventions, which the younger Chinese generation really like," explains Bake's Simon Tang.
Also drawing in the younger, Instagram-loving crowd is the taiyaki cone, made from tapioca starch and wheat flour mixed with water. Originating from Japan, the cone requires a special taiyaki waffle maker, which has to be imported, to craft the iconic fish shape. Small custard-filled fish (top right) are also available.
Besides the waffle maker, Bake's other kitchen equipment won't be unfamiliar to British bakers with a line-up including mixers, retarders and bakery ovens.
Like Kova Patisserie, Bake's menu also features mille crêpe cakes with 10 layers of pancakes.
"Though originally from France, we use lots of oriental ingredients and have created a modern fusion cake, with flavours including: matcha, taro, sweet potato, mango and yuzu. This is a unique style, very different from classic UK cakes," Tang adds.
Golden Gate Cake Shop
Visitors to this Cantonese bakery can find more than 80 types of cake available within this traditional-looking shop. These creations, often laden with fruit and cream, are described as a "the traditional Chinese take on soft sponge from Europe" and can feature characters such as Hello Kitty.
"A typical European-style supermarket birthday cake uses royal icing and marzipan, which tends to be very flavoursome but a bit too sweet for some consumers. The cakes we produce are less sweet than the typical European style, and the whipped fresh cream tends to have a light, soft texture," explains Michael Wong from Golden Gate Cake Shop.
Vanilla and coconut pandan lead the way as its most popular cake flavours.
Despite its name, Golden Gate Cake Shop's bestselling item is the roast pork bun, which has a golden-coloured crispy crust, rather than steamed dough, filled with Char Siu combining a salty savoury taste with the sweetness of honey.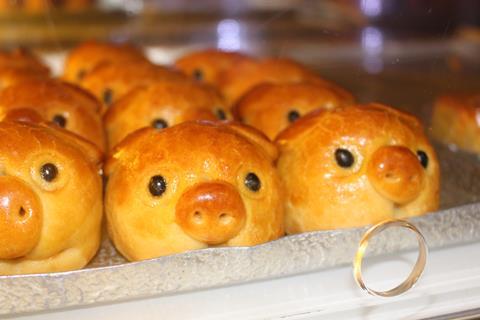 "Careful preparation of each bun is crucial, with a strong egg wash and perfect bake in a good oven," adds Wong.
Creamy custard buns – a sweet milky filling in a soft dough – also appear on the menu alongside adorable pig-shaped buns filled with a marzipan-like pandan-flavoured filling.
While Wong believes some flavours are too powerful for the British palate, in particular fermented foods such as the century egg, he believes the likes of infamous fruit durian could gain traction in the right format. For the Mid-Autumn Festival, which took place last month, Golden Gate created a durian snowskin mooncake – a small treat that comprises a duck's egg yolk surrounded by a sweet filling made from red bean or lotus seed paste and wrapped in an intricately designed pastry case.