In 2020 Nicholas & Harris (N&H), part of Finsbury Food Group, undertook a project to scale up production of its speciality bread, rolls and buns for major UK supermarkets and foodservice customers.
Here, we take a sneak peek inside the factory and find out what the project involved: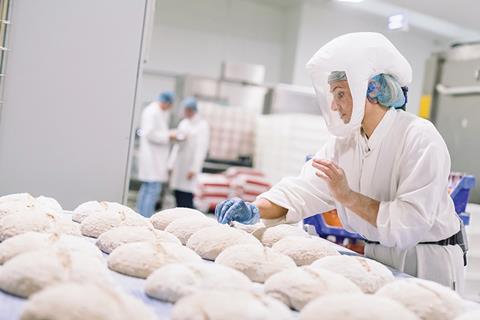 Having observed strong demand for its artisan sourdough products, the Salisbury-based baker invested in new equipment from bakery and food production equipment specialist European Process Plant Ltd (EPP) to scale up production.
"Our specialism is craft bakery products at scale in a supermarket format, at a supermarket price," says David Walmsley, business director at Finsbury Food Group, highlighting the natural fermentation processes used in its loaves' creation to develop flavour.
"We've worked with our retail partners to create these products, and as the demand has grown, we've invested in more assets for our artisan unit to keep up."
The latest additions – a König Ceres 2.1 dough divider, and an additional MIWE Ideal T deck oven with stone plates – enable N&H to produce high quality products in the gradual and gentle manner required of sourdough baking, it says, while also scaling up the ability to produce significant numbers of loaves at an affordable price point. EPP provided a full turnkey solution including installation.
As part of the fully managed project, EPP worked with the bakery's engineers to remove the existing take off system, install the new oven next to the existing one, and reinstall take off belts.
Walmsley describes stone-baking as a "critical" part of N&H's baking process as it helps with crust development and locking in moisture – something the MIWE Ideal T Oven provides alongside six additional decks of capacity to further scale up production. N&H previously had two of the same MIWE ovens.
"This oven comes with an automatic loading system that allows us to run an efficient bakery," Walmsley adds.
The König Ceres divider, meanwhile, carries out low-stress dough handling, allowing it to mould dough gently into individual loaves, with the high accuracy required by N&H's supermarket customers.
"With the new divider, we were able to set the running speed to a consistent level and organise the work area more efficiently, which in turn increased our oven utilisation. We now have a balanced production area, making fantastic artisan sourdough loaves," he notes.
"This market has grown exponentially for us over the past five years. What we now have is a fantastic facility to make genuine artisan breads – in multiple shapes and sizes – at great scale for our key multiple customers across the country."