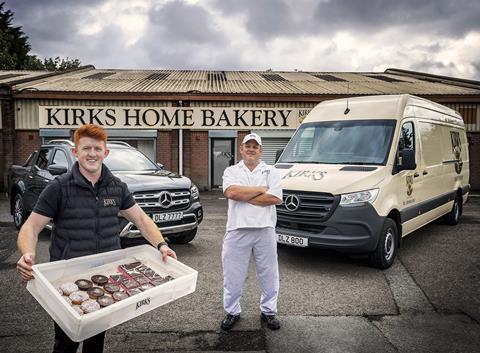 Belfast-based Kirks Home Bakery has expanded its fleet of delivery vans to keep up with rising customer demand.
The family bakery has added a third Mercedes-Benz Sprinter, supplied by MBNI Truck & Van, to its fleet to deliver bread, rolls, scones, cakes and other treats across the city six days a week. It joins a smaller van and Mercedes-Benz X-Class Pick Up on the road for the business.
The latest Sprinter 314 CDI is powered by a 143-horsepower engine with rear wheel drive.
"We've had five Sprinters in succession now, but never more than two at a time," said John Kirk, director of Kirks Home Bakery which was founded by his parents Robert and Sonya more than 25 years ago. "Rising demand for our products, however, persuaded us to set a third on the road."
He explained that while the café trade reduced significantly during lockdown, the retail side of the business took off.
"Now turnover is picking up again for cafes, while demand for our products sold over the counter has remained very high."
The vans supply Kirks' two bakery shops in central Belfast and Ballyhackamore as well as a host of other independent outlets, including cafes and delis across the city.
"Our Sprinters endure a tough life, leaving our factory on the Shankill at around 3.30am and making up to 80 drops per day. They stand up to the punishment extremely well and are very cost-effective to operate – over a 200,000-mile working life we experience little if any unplanned downtime."