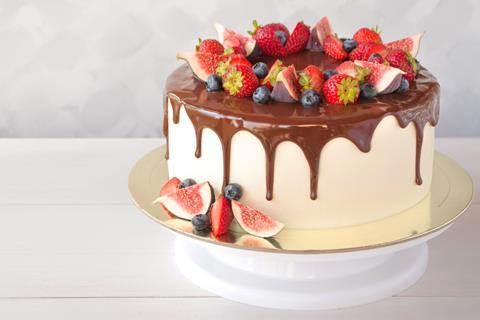 Bakeries are unveiling their plans to celebrate Cake Week from 31 August – 6 September.
Launched by Nudge PR, the first-ever Cake Week is set to raise awareness of 'the nation's favourite sweet treat'. It is designed to help UK bakeries, bakers, ingredients and equipment companies promote cake, said the firm.
In anticipation of the occasion, bakeries are whipping up special edition treats, organising baking and decorating classes and running competitions.
Those taking part include London-based Luminary Bakery and Rosalind Miller Cakes as well as Gloucestershire-based Vanilla Pod Bakery.
Here's what is planned for Cake Week so far:
Chocolatier Paul A Young has unveiled a Victoria Sponge truffle, comprising homemade Victoria sponge mixed with his signature white chocolate ganache, layered with raspberry jam and a decorative sugar top
Lily Vanilli will be serving up pastel-coloured cakes including Vanilla Peach, Gluten-Free Banana with Buckwheat Chia & Salt Caramel, Vanilla Cherry and Double Chocolate Pretzel. The cakes will be available on 6 September
Journalist and food writer Sudi Pigott will host a Cake Week quiz on 1 September.
Rosalind Miller Cakes will hold a competition to win two new online classes, Baking Fundamentals and All About Buttercream. The classes will cover baking the 'perfect sponge' and essential buttercream skills bakers need to ice and decorate
Social enterprise bakery Luminary Bakery will be sharing a recipe from its new book Rising Hope: Recipes and Stories from Luminary Bakery
Black Box Cakes will launch Black Box Cake Masterclasses, which consumers will be able to pre-order during Cake Week. If bakers purchase a full set of tutorials during Cake Week, they will also receive a free Cake Troubleshooting guide. Black Box will also be releasing videos with tips for 'better baking'
Celebration cake maker Delights by Cynthia will create a fondant fancy
Lindy's Cakes, operated by international cake designer, sugar craft expert and cookbook author Lindy Smith, will demonstrate a hyper-realistic cake and run a live demonstration of a technique from her new book One Tier Party Cakes
Vanilla Pod Bakery will run a competition for one baker to win a 6" round Indulgent Belgian Chocolate Buttercream Celebration Cake.
The week is sponsored by Carr's Flour, Guittard Chocolate, Fab Flour (the consumer arm of the National Association of British and Irish Millers) and The Easy Peasy Baking Campaign, Fab Flour's consumer campaign to inspire the UK's non-bakers to bake.