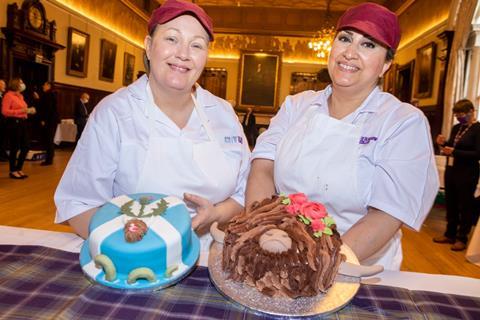 A Highland cow and a saltire were the winning entries in a 'Scotland on a cake' challenge to celebrate the start of the search for Scottish Baker of the Year 2022/23.
The cakes shared the top spot following a five-way head-to-head involving final-year bakery students from City of Glasgow College at Trades Hall in Glasgow. The entrants had just 45 minutes to create their cakes, with Scottish veteran baker Robert Ross and Little Venice Cake Company founder Mich Turner performing judging duties.
Maryam Mehdizadehkasri, who created the Highland cow, and Diane Cleland, who decorated the saltire, won a work experience day at Mimi's Bakehouse for their efforts.
The other entries for the Scotland on a cake contest were a freedom cake delivered by Brian Behan, an IrnBru 'bonanza' iced by Rebecca Balmforth, and a piped saltire by Kellyanne McClymont.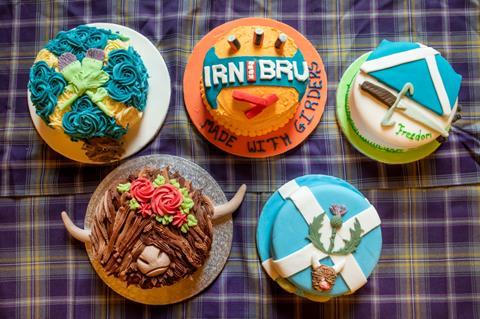 All the entrants received a day at the development bakery of Scottish Baker of the Year lead sponsor Bako in Preston. During the contest the students were able to call upon advice from the current Scottish Bakers of the Year, Inverness-based Jayne and Sara Gow.
"Our college has a well-deserved reputation for excellence in culinary arts and bakery, and I am delighted that our NQ level 6 bakery students showcased their skills for the launch of Scottish Baker of the Year," said Paul Little, principal and chief executive at City of Glasgow.
The event marked the opening of customer voting for the Scottish Baker of the Year 'Customer Choice' awards. Shoppers vote for their favourite baker to identify a winner in each of four business categories: Craft Baker, Retail Craft Baker, Wholesale Baker, and Bakery Café.
For the 2022 competition the organiser, Scottish Bakers, is also inviting bakers to submit products of their own choosing across the following categories: Biscuit, Bread including traditional and sourdough, Individual Cake, Morning Roll including Buttery, Savoury, Scone including Potato Scone, Celebration Cake, Viennoiserie, including French and Danish style pastries and Free-from Bread, and Biscuits and Cakes.
In addition, one baker will take the overall title of Scottish Baker of the Year 2022/23, with the winner announced at a gala dinner at the Glasgow Hilton on Saturday 7 May 2022.
"We are open to all bakers, not just our members though non-members will have to pay a small fee or join the association to be in with a chance of taking a prize," said Alasdair Smith, chief executive of Scottish Bakers.