Lotus Biscoff owner Lotus Bakeries has increased its ownership of Natural Balance Foods to 97.9%.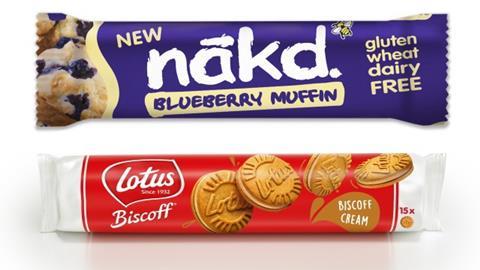 Based in Buckinghamshire, Natural Balance produces snack bars under the Nakd and Trek brands. It was founded in 2004 by brothers Jamie and Greg Combs and grew rapidly on the back of consumer interest in healthier snacking.
In 2015, Lotus acquired a 67.2% share of the business, with the brothers remaining in charge of day-to-day operations.
Natural Balance Foods has continued to grow in the UK and overseas, and Lotus said it and the founders had agreed it has reached a point to 'move into a next phase', prompting Lotus to increase its stake.
The Combs are to stop managing operations at the end of this year, with Gareth Dunne, currently operations director, appointed managing director and reporting into Isabelle Maes, executive president of Natural Balance Foods.
"We have great respect for what has been realised by Natural Balance Food's founders and management team, not only in terms of growth but particularly by their vision of wholefood snacking," said Maes.
Lotus last year acquired 20% of the shares in UK sourdough crispbreads supplier Peter's Yard, after establishing the FF2032 (Fast Forward 2032) fund to invest in promising US and European brands and companies "offering innovative products, technologies or market approaches within the food sector".