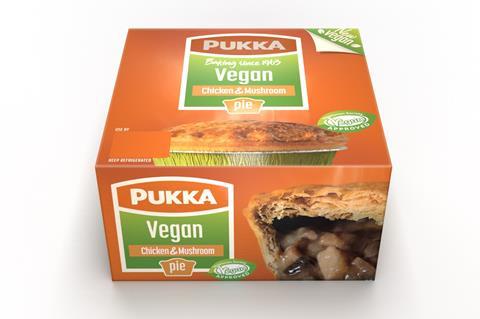 Pukka Pies is set to make a further £4.5m investment to enhance manufacturing capacity and capability at its Syston bakery.
The investment was announced as the company revealed annual figures to May 2020 showing turnover rising to £53.1m and profit up 13.5% to £4.1m.
It reflects another successful year despite an impact on its foodservice division due to Covid-19, said the company.
Pukka has hit a raft of milestones such as its biggest ever investment in marketing with its The People's Pie campaign, as well as the launch of its first-ever vegan range and Just for Two sharing range.
"Our announcement of continued investment in the Syston Bakery will further reinforce Pukka's position as a key employer in the region with local people being at the heart of our success and future vision," said Deborah Ewan, CEO at Pukka.
Sales in retail have continued to rise over the last year, added Ewan, whilst sales in foodservice have reflected the difficulties its customers in the sector have had over the same period.
Pukka has continued to focus on sustainability across the bakery with 100% of its electrical supply now generated from renewable schemes accredited by regulator OFGEM. This followed the introduction of fully recyclable plastic free packaging across its chilled supermarket range in 2020.
"Despite all the turmoil in the market, our ambition hasn't changed. We want to put more pies on more plates more often and that means a significant investment to ensure we are enhancing the capability and capacity of our bakery," she added.
"We are still looking for ways to innovate and improve our business to make sure we are giving the people of Britain what they want. We have exciting plans for 2021 and are confident that Pukka will continue to grow for many years to come."