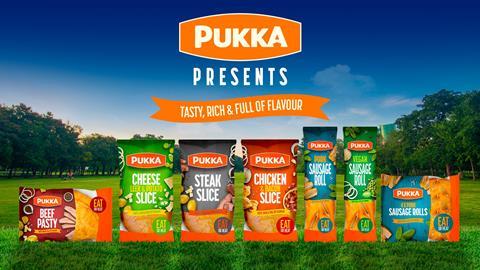 Pukka is making a major play for a slice of the food-to-go market with a new range of handheld products including savoury slices, sausage rolls and a pasty.
The products land on supermarket shelves from 2 September and, according to the manufacturer, will 'catapult Pukka into a range of consumption moments, some of which are new territory for the brand'.
The seven-strong line-up of NPD sees some of its most popular pie recipes reimagined as savoury slices as well as the addition of meat and vegan sausage rolls. The Handheld range comprises:
Steak Slice, rsp £1.75, 170g
Chicken & Bacon Slice, rsp £1.75, 170g
Veggie Cheese, Leek & Potato Slice, rsp £1.75, 170g
Pork Sausage Roll, rsp £1.25, 130g
Pork Sausage Roll multipack, rsp £1.85, 4 x 60g
Vegan Sausage Roll, rsp £1.50, 130g
Beef Pasty, rsp £1.75, 227g.
Pukka's Vegan Sausage Roll uses 'ground-breaking' vegan proteins and cereal blends with a unique seasoning and peppery finish.
The launch will be backed by Pukka's 'biggest ever' cross channel campaign which includes a return to TV screens this autumn. It is also hoping to 'disrupt the category' by breaking up the 'wall of beige' with what it describes as eye-catching orange packaging.
"We're the leading brand in the hot pie category (worth £47.4m), have contributed the most growth to the sector over the last five years, plus we're growing three times faster than the category," said Pukka CEO Deborah Ewan.
"Each proposition within the Handheld range will allow us to appeal to a host of different shopper missions – some of which we don't currently cater for. What's more, of the 18 million shoppers already engaged with the Pukka brand, 50% of these purchase pasties, slices and sausage rolls. This means that – along with other consumers purchasing these products – there's an opportunity for retailers to attract 27 million new shoppers to the Pukka brand across three categories."
The handheld range will roll into Asda from 2 September and will be available in Morrisons in October and Sainsbury's in November.
Earlier this year, Pukka invested £4.5m in its Syston bakery in Leicestershire to enhance manufacturing capability and capacity. It came after the business hit a raft of milestones including its biggest ever marketing investment up to that point in it's the People's Pie campaign, as well as the launch of its first vegan range.