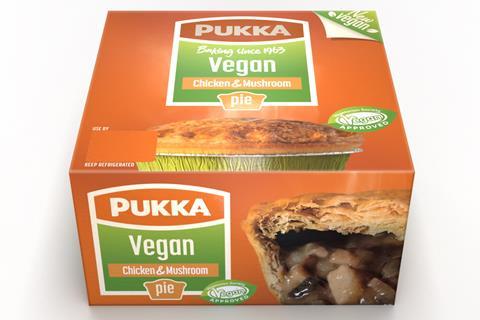 Pukka has rolled out its first-ever vegan pies.
The new pies – Vegan Chicken & Mushroom and Vegan Minced Steak & Onion – see two of Pukka's bestsellers get a meat-free makeover.
The former sees chicken replaced with soy protein pieces and encased in the brand's signature puff pastry along with a savoury vegan creamy sauce. The Vegan Minced Steak & Onion also uses soy protein as a meat alternative paired with chopped onions and gravy.
Both are approved by the Vegetarian Society and feature its vegan trademark on the front of pack. The packaging is recyclable and plastic-free – Pukka rolled it out across its portfolio earlier this year.
They will be available in Morrisons from 16 September and Sainsbury's from 23 September with an rsp of £1.89. Other supermarket listings will follow later in the year.
"Our new recipes are part of an ongoing investment to help put more pies on more plates more often and as the People's Pie, we want to make sure there's a Pukka for everyone," said Pukka head of marketing Rachel Cranston.
She noted research that found 55% of shoppers are actively reducing their meat intake while the number of vegans in the UK has risen by 305% in the last year.
"This demonstrates there's a real opportunity to offer shoppers vegan alternatives to two of our most popular pie recipes which don't compromise on taste, and we're confident that retailers will benefit from incremental sales by stocking our new range," she added.
Following the launch, Pukka is also returning to TV screens with its multichannel campaign 'The People's Pie' in autumn.