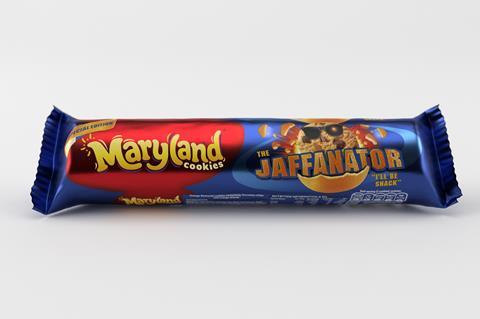 Nairn's, Maryland and Pukka are among the bakery brands to unveil new products.
Delifrance and Spar have also extended their bakery ranges in recent weeks, with NPD including viennoiserie made with a blend of butter and margarine as well as own label sandwiches.
Here's what's new to the UK bakery aisles and foodservice counters: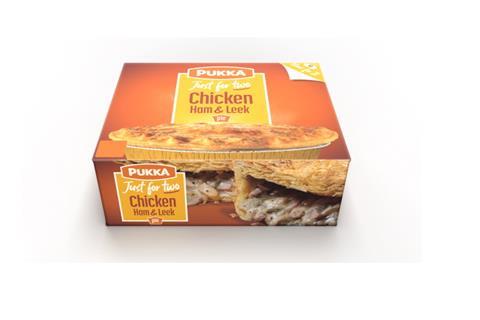 Pukka
The pie brand has launched a Just For Two sharing range, with Steak & Red Wine; Chicken, Ham & Leek; and Vintage Cheddar & Leek variants.
Designed for two people to share, the new pies will target shoppers seeking something a little more special, said the firm.
Available for an rsp of £3, all three recipes feature Pukka's signature golden puff pastry.
"We've found that sharing pies can sometimes cause confusion amongst shoppers around how many people should be tucking in. That's why we've made it clear that these pies are meant for two people to enjoy – through the name of the range, an on-pack 'New for 2' flash and novel illustrations to demonstrate ways the pies can be split – whether that can be a nice and precise 50:50, or a bigger slice 75:25," said Rachel Cranston, head of marketing at Pukka.
The Pukka Just For Two range will hit Sainsbury's shelves from 23 September, followed by Morrisons on 12 October.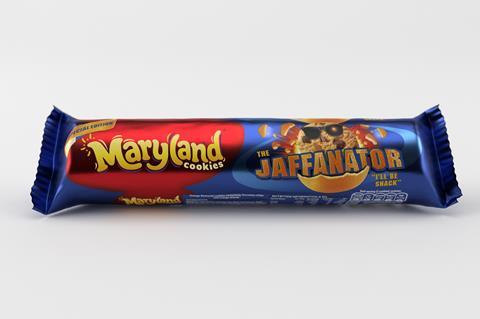 Maryland
Burton's Biscuits has expanded its Maryland range with an orange-flavoured cookie, The Jaffanator.
Available for an rsp of £1.30, the cookie combines a citrus taste and chocolate chips.
"As the autumn period approaches, the orange and chocolate flavour combination is a classic taste to get you feeling cosy and prepared for the cooler months and festivities to come," said Kate Needham, marketing director at Burton's Biscuits.
The Jaffanator is available from Sainsbury's and Home Bargains, as well as Lidl from 8 October and Asda from 7 November.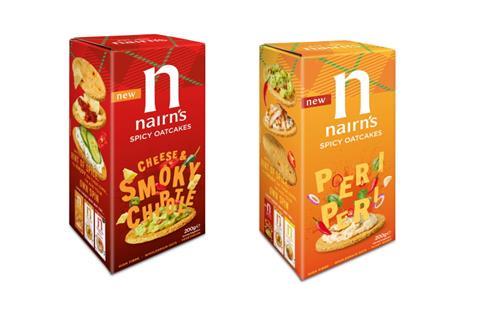 Nairn's
Nairn's has unveiled a Spicy Oatcakes sub-range comprising Peri Peri and Cheese & Smoky Chipotle variants.
The oatcakes contain wholegrain oats and are high in fibre, said the firm.
Suitable for vegetarians, they contain no added sugar, artificial colours, flavours or preservatives.
Consumers can find the Spicy Oatcakes in Morrisons Scotland and Nairn's online shop, while Asda will roll out the oatcakes from November.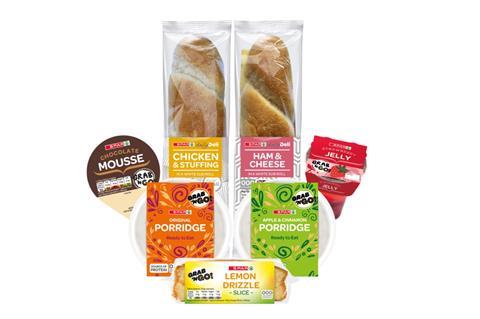 Spar
Spar is extending its food-to-go range with three new products which it said are designed to drive sales and increase customer retention.
The new own label products include Ham & Cheese and Chicken & Stuffing rolls (£3.25/each) as well as a Mini Lemon Drizzle Cake (90p).
"Having a range of fresh, on trend and seasonally relevant products available in our Spar stores is really important when attracting customers. We are going to continue with our own label new product development programme as breakfast on the move and the UK snacking market grows," said David Wright, brand manager at Spar UK.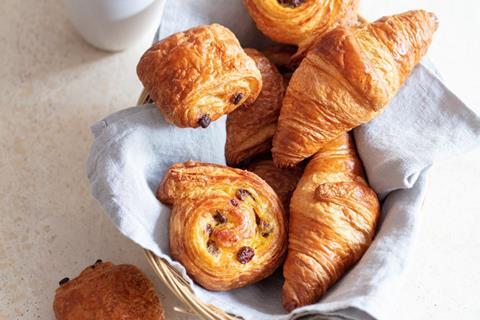 Delifrance
The bakery supplier is now offering its Smart Blend viennoiserie range in the UK.
It is set to support operators looking for a high quality but affordable option, Delifrance said, as it is made with a combination of butter and margarine.
The Smart Blend range includes croissants, pains au chocolat, pains aux raisins, a range of filled croissants and a mini classic pastry mix.
"With operators across the country looking to reduce prices without sacrificing quality, Delifrance is proud to offer the Smart Blend to hotels, cafes and wholesalers as a more affordable alternative that still delivers high standards expected of Delifrance products," said Stephanie Brillouet, marketing director at Delifrance.