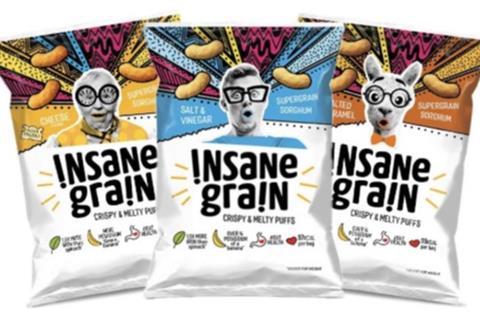 Warburtons has ploughed £250,000 into snacking brand Insane Grain as part of the Batch Ventures innovation fund.
The investment is the second one made by the 50:50 joint venture with independent business accelerator Mission Ventures, which provided capital for Dorset-based specialist biscuit manufacturer, The Artful Baker Ltd in February.
Insane Grain was founded by Rushina Shah in March 2020 and recently launched its bagged snacks range in Sainsbury's Future Brands aisles. The snacks are made from the super-grain sorghum, an ingredient said to be nutrient rich and grown in some of the most poverty stricken, inhospitable and arid areas of the world.
"I founded Insane Grain on the principle of offering healthier, mass market snacks without compromising on taste," Shah said. "Our ambition is to make the world a better place through healthier snacks using sorghum sourced directly from farmers in the poorer regions of the world.
"Having the backing of Batch Ventures, which brings together the expertise of Warburtons and Mission Ventures, is invaluable. This is a momentous milestone for Insane Grain," Shah added.
Jonathan Warburton said the product quality and the brand "stood out immediately".
"Insane Grain's innovative use of sorghum in place of maize to create a flavoursome range of healthier puffed snacks is impressive, and in Rushina Shah we have a dynamic young entrepreneur who is eminently backable. We're excited to see this brand grow from strength to strength."
Paddy Willis, CEO of Mission Ventures, added: "We've already had the good fortune to work with Rushina and Insane Grain as a portfolio brand in the Good Food Fund, our programme tackling childhood obesity. We see all sorts of opportunities on the horizon for the brand to disrupt snacking and other categories."
Batch Ventures was set up last year to support innovative young companies working in the baked goods category and combines equity funding with hands-on support from successful entrepreneurs and industry professionals.