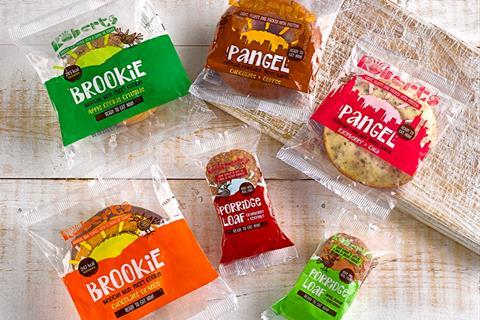 Roberts Bakery is venturing into the snacking category with the launch of a six-strong breakfast-inspired range.
The ready-to-eat snack range includes fusion bakery items such as a Pangel – a cross between a pancake and a bagel – and a brookie, a brioche bun and cookie hybrid.
The pangels are described as high in protein and come in chocolate & coffee and raspberry & chia flavours while the brookies are available in apple cookie crumble and chocolate orange flavours.
Completing the range are porridge loaves. Each pack contains a whole bowl of oats, said Roberts, and comes in either apple, raisin & cinnamon or cranberry & coconut variants.
All contain less than 250 calories and come individually wrapped in compostable packaging.
They will be available in convenience stores, including Spar and McColl's, as well as doorstep delivery services Mortons Dairies and The Modern Milkman Dairy from 7 September. Each product has an rsp of £1.25. Multipacks of the six snacks will also be available to order on Roberts' recently-launched web shop as of 10 September.
The range was originally designed for the on-the-go breakfast sector pre-Covid, but Roberts has since switched focus and the range is now aimed at consumers looking for a source of 'healthy energy' at home or out and about as society adjusts to the 'new normal'.
"Five months ago, when we were preparing to launch this range, we were targeting an OTG consumer in a market set to top £23bn by the end of 2022. Since the outbreak of the pandemic – thanks to the agility of our brand and operations – we've quickly adapted to take advantage of new opportunities," said Alison Ordonez, innovation director at Roberts Bakery.
"As we ease out of lockdown, there is certainly an increased demand for better-for-you snacks that still offer escapism without conflicting with health goals. We know that most shoppers are now trying to eat and drink healthier. This new range meets their needs perfectly – being healthy nutrient-rich snacks that taste great too."
Hybrid bakery products have been gaining traction in recent years thanks, in part, to Dominique Ansel's croissant doughnut hybrid – the cronut. The likes of the cretzel (a croissant and pretzel hybrid) and Pain au Choco-nutv have hit the scene this year alone.